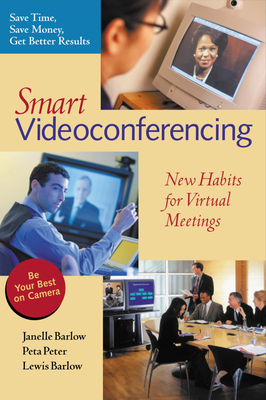 Smart Videoconferencing
New Habits for Virtual Meetings
Paperback

* Individual store prices may vary.
Description
Smart Videoconferencing is the first book to show people how to participate effectively in videoconferences, rather than just how to set them up. The authors show that just like traditional meetings, mastering a few tricks and simple skills can mean the difference between a successful videoconference and an unsuccessful one.
Praise For Smart Videoconferencing: New Habits for Virtual Meetings…
"This book provides unique and pragmatic insight into communication using videoconferencing. In today's world where many are trying to define new strategies to deal with geographic separation and time sensitive issues, Smart Videoconferencing is essential reading."
—CRAIG DINSELL, EXECUTIVE VICE PRESIDENT, OPPENHEIMER FUNDS

"Smart Videoconferencing is so full of wit and wisdom, it should be read by every executive whether or not they ever use videoconferencing. Janelle Barlow, Peta Peter, and Lewis Barlow have compiled not only the most intelligent and most readable book on this subject, they've also brought together the most extraordinarily useful set of tips on public appearance etiquette I've ever read. This book may also be one of the funniest business books in recent memory. Many of the stories that accompany each of the authors' dozens of tips are so hilarious they'll make you laugh out loud. And the pronunciation guide at the end of the book is alone worth the price of purchase. I know you'll love this book as much as I did!"
—JIM KOUZES, COAUTHOR, THE LEADERSHIP CHALLENGE AND ENCOURAGING THE HEART, CHAIRMAN EMERITUS, TOMPETERS! COMPANY

"With this book the authors have been able to create the perfect guide on how, when, and for what to use videoconferencing. Smart Videoconferencing clearly states all shortcomings people have encountered using any method of conferencing. If I had had this book five years ago, I might have had a positive attitude toward videoconferencing."
—PAUL SPIERINGS, TECHNICAL SERVICES MANAGER, BRITISH TELECOM IGNITE SOLUTIONS, AMSTERDAM

"Unless you've read Smart Videoconferencing, the results of your next videoconference will either be (1) memorable, (2) without impact, or (3) so bad it is now a part of your legacy. This handbook guarantees your results. A 'must' read for every executive." —THOMAS GRISSEN, COO, MAXIMUS"A significant contribution to the world of communication. The book is cogent, informed, and very readable. A must for all businesspeople."
—GRANT D. MELDRUM, SENIOR VICE PRESIDENT, THE ZIMMERMAN AGENCY

"This book is a must-read for anyone curious about videoconferencing or seriously planning to do more with it. Application of the concepts here can save you untold problems from mispronouncing words, goofs on screen, and more. It is filled with practical, real-world examples that can help you avoid problems that others, even celebrities, have encountered."
—TERRY L. BROCK, "TECHNOLOGY TOOLS" AND "CYBERSENSE" COLUMNIST

"Smart Videoconferencing, very enjoyable to read with its amusing anecdotes to illustrate its points, dispels the myths and technical complexity of VC in a user-friendly guide. This book will make a busy executive's life immensely easier and less stressful."
—NIGEL ROBERTS, GENERAL MANAGER, GREAT EAGLE HOTEL, HONG KONG

"If your company uses videoconferencing or is considering this technology, read this book! Smart Videoconferencing gives executives all the tools they need to look and sound their best in this new medium."
—KAREN LAM, PRESIDENT, COMPASS INTERNATIONAL

"Smart Videoconferencing takes you step by step through the do's and don'ts of this powerful media. If you want to master videoconferencing, you must read this book."
—NIALL MURRAY, DIRECTOR OF TRAINING AND DEVELOPMENT, THE VENETIAN RESORT, HOTEL, CASINO

"I didn't realize how much I didn't know about videoconferencing etiquette. I went from clueless to confident in one plane ride!"
—JENNIFER WIMMER, EVENTS COORDINATOR, PIONEER INVESTMENT MANAGEMENT, INC.

Berrett-Koehler Publishers, 9781576751923, 192pp.
Publication Date: September 2, 2002
About the Author
Janelle Barlow, Ph.D., is president and owner of TMI, US, a partner with the Danish-based multi- national training and consulting group. She is also a keynote speaker and author. Twice named Inter- national Trainer of the Year by TMI, she has also earned the Certified Speaking Professional (CSP) designation from the National Speakers Association, on whose national board she currently sits.
Barlow's popular programs, A Complaint Is a Gift, Branded Customer Service, and The Stress Manager, are offered around the world. Her client base includes Hewlett-Packard, Chevron Texaco, Exxon, Mandarin Oriental Hotel Group, Aramark, Shangri-La Hotels, Unisys, Maximus, Genentech, Avon Cosmetics, Paramount's Great America, Dell Computers, Volkswagen, Kaiser Permanente Hospitals, Satmetrix, Southwestern Bell, DHL, and Cisco, among others.
Barlow has written three previous books, including the best- selling A Complaint Is a Gift, The Stress Manager, and Emotional Value. Her doctorate is from the University of California, Berkeley.
Peta Peter is a senior partner with TMI,US and a popular speaker and trainer. Before joining TMI in 1994, Peter had a noteworthy career in television and radio—both in front of and behind the camera. She was one of Australia's first female television news anchor and also coanchored a popular current affairs program, Nationwide, that was the precursor to 60 Minutes in Australia. Peter has produced
award-winning television shows, documentaries and video programs.
Lewis Barlow currently works in sales and business development for TMI,US. He comes from a background in new technology and on-line advertising sales.
Prior to joining TMI, Lewis was director of sales in Shanghai for 24/7 Media Asia, the on-line advertising arm of Chinadotcom. His clients included Compaq, Motorola, Bosch, and Chivas Regal. Before that, Lewis was head of sports marketing sales for IMG in Northern China. Lewis sold sports advertising packages to multinational corporations. He has a master's degree in Chinese linguistics from the University of Wisconsin, Madison.
or
Not Currently Available for Direct Purchase