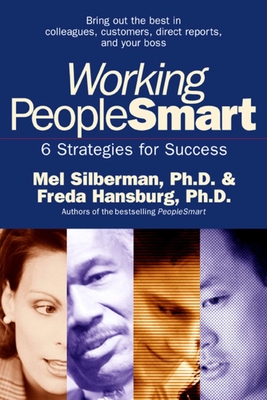 Working PeopleSmart
6 Strategies for Success
Paperback

* Individual store prices may vary.
Description
Bringing out the best in others is good business. When we bring both respect and interpersonal savvy to our work relationships, we do more than make people feel good. We enhance personal and organizational performance. And as the workplace grows more complex and competitive, managing our work relationships becomes even more essential and difficult. Now more than ever we need to work people smart. Working PeopleSmart describes the six core strategies used by people-smart individuals and shows how to apply them in the toughest workplace situations. Individuals who are people smart know how to open others up rather than make them defensive or resistant. They have a knack for diffusing tension rather than creating it. They set a good example through their own behavior on the job and can inspire and influence others with less developed skills. Working PeopleSmart can serve as your virtual coach to guide you through difficult work relationships skillfully. How do you deal with a critical colleague? Make your boss listen to you? React to an offensive joke? Get the resources you need? The authors look at over 50 real-life situations and offer people-smart prescriptions for handling them effectively. They provide coaching tips for each scenario and describe exactly what a people-smart response sounds like. As two psychologists with both organizational and clinical expertise, coauthors Mel Silberman and Freda Hansburg are highly qualified to deliver the message that we can emerge from even the toughest interpersonal moments on the job with dignity and grace. Where other books rely on typologies that categorize people according to their interpersonal styles and then offer advice on how to deal with each type, the strategies described in Working PeopleSmart are straightforward and universal. They can be used immediately to deal with any type of person or any situation, no matter how difficult or sensitive.
Praise For Working PeopleSmart: 6 Strategies for Success…
"Mel Silberman is the Leonardo da Vinci of experiential learning—a scholar, inventor, engineer, and artist—and PeopleSmart is a masterpiece. Silberman, along with colleague Freda Hansburg, has crafted the most skillfully organized, user-friendly, and personally useful handbook of interpersonal lessons and individual development activities currently available in the marketplace."
—Jim Kouzes, coauthor of The Leadership Challenge and Encouraging the Heart, Chairman Emeritus, tompeters!company

"PeopleSmart is an elegantly simple fieldbook, jampacked with everything you need for great relationships. Make it a must-read for all your relations—associates, friends, spouse— and reap the rewards of harmony, understanding and productivity."
—Chip R. Bell, coauthor of Dance Lessons: Six Steps to Great Partnerships in Business and Life

"PeopleSmart offers insight and assistance for today's biggest workplace challenges—getting things done through others."
—Ron Zemke, coauthor of Generations at Work

"PeopleSmart is at once inspirational and practical. If you want to be interpersonally effective, this book will show you the way."
—Glenn Parker, author of Team Players and Teamwork

"I found PeopleSmart to be concise and easy to understand. I believe it will be quite a useful learning tool for operational managers."
—Hiromasa Yokoi, Vice Chairman, CEO and President, Berlitz International, Inc.

"PeopleSmart gives us eight critical skills to achieve interpersonal success in all aspects of life. It's easy to read, practical, and very useful."
—Lenny T. Ralphs, Director of Strategic Management, Franklin Covey

"PeopleSmart should be required reading for all corporate executives. Mastering even one chapter could transform a career."
—John H. Reynolds, President, BMF Reynolds, Consultants in Executive Recruiting.

Berrett-Koehler Publishers, 9781576752081, 224pp.
Publication Date: June 3, 2004
About the Author
Mel Silberman, Ph.D., is professor and coordinator of the Adult and Organizational Development Program at Temple University where he received the "Great Teacher" Award. He is also president of Active Training, a provider of cutting-edge business and personal development seminars based in Princeton, NJ.
A licensed psychologist, he specializes in training and devel- opment, marital and family health, performance improvement, and team building. Dr. Silberman has written a dozen best-selling books for parents, business people, educators, and trainers, including Active Training, Active Learning, How to Discipline Without Feeling Guilty, Confident Parenting, 101 Ways to Make Meetings Active, and 101 Ways to Make Training Active. He is also editor of The Team and Organization Development Sourcebook, The Training and Performance Sourcebook, and The Consultant's Toolkit. Dr. Silberman is a widely sought-after speaker and seminar leader for educational, corporate, governmental, and human serv- ice organizations.
Freda Hansburg, Ph.D., is a psychologist and facilitator of change both for individuals and for organizations. She currently maintains a clinical practice with individuals and couples and directs the Technical Assistance Center, a consultation and training program at the University of Medicine and Dentistry of New Jersey. A popular trainer and conference presenter, Dr. Hansburg has provided consultation to numerous behavioral health and human service organizations, taught in university settings, and published professional and popular articles.
or
Not Currently Available for Direct Purchase