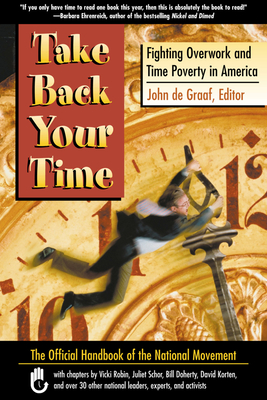 Take Back Your Time (Paperback)
Fighting Overwork and Time Poverty in America
Berrett-Koehler Publishers, 9781576752456, 288pp.
Publication Date: August 31, 2003
* Individual store prices may vary.
Description
Forget oil or gold time is the most precious commodity in America today. Americans have less free time than anyone else in the industrialized world. In fact, modern Americans work longer hours than medieval peasants Here, well known experts and writers explore the effects of overwork, over-scheduling, time pressure and stress on our health, relationships, children, the environment, and more. These renowned authors come together to support a national movement to Take Back Your Time, and they propose personal corporate, and legislative solutions.

Take Back Your Time is the official handbook of the national movement behind Take Back Your Time Day. Ultimately, lake Back Your Time Day organizers plan to institute public policies that put work in its rightful place and allow us all to live richer, fuller, more well-rounded lives.
About the Author
John de Graaf is an independent producer of award-winning television documentaries, including Affluenza and Escape from Affluenza, and is the national coordinator of Take Back Your Time Day.
Praise For Take Back Your Time: Fighting Overwork and Time Poverty in America…
"Take Back Your Time is a call to action for all of US who believe that the aim of a society is to benefit its people, not to maximize profits."
--John Sweeney, President, AFL-CIO

"This book is not about time, really; it's about power. It's about realizing our own power to be in control, not slaves to inexorable economic forces. Read this book and take a long deep sigh of relief."
--Frances Moore Lappe, author of Hope's Edge and Diet for a Small Planet

"Take Back Your Time documents how Americans hurried, harried lifestyles use more natural resources, generate more waste, and leave less time to care for the Earth we all share. The world and its inhabitants would breathe easier indeed if we were to slow our breathless pace."
–-Gaylord Nelson, Earth Day founder, former U.S. Sen and author of Beyond Earth Day: Fulfilling the Promise

"…makes a compelling case for the direct relationship between overwork and a host of critical social problems from physical and emotional stress to overconsumption of resources, environmental degradation and declining levels of civic participation. A tour de force!"
--Al Gedicks, Professor of Sociology, University of Wisconsin-La Crosse