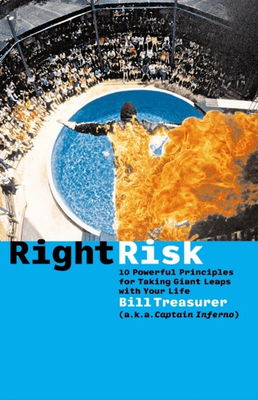 Right Risk (Paperback)
10 Powerful Principles for Taking Giant Leaps with Your Life
Berrett-Koehler Publishers, 9781576752463, 200pp.
Publication Date: June 9, 2003
Description
Risks are a part of a fully-lived life--and are essential for personal and professional advancement. Right Risk draws on the experiences and insights of successful risk-takers (including the author's own experiences as a daredevil high diver) to detail ten principles you can use to take risks with greater intelligence and confidence. Right Risk is about taking more deliberate and intentional risks. It will teach you how to determine which risks to take and which to avoid, how to balance the need to take more risks with the need to preserve your safety, and how to confront all those people who tell you what a mistake it would be to take the risk. Right Risk will teach you to make wise and courageous choices--to confidently face life's challenges and take advantage of life's opportunities. It will help you become more comfortable with the uncomfortable, more courageous in facing fear, and more prepared to take the risks you've always wanted to take. It will help you take the giant leaps you've been dreaming of.
About the Author
Bill Treasurer is a writer, speaker, consultant, and founder of Giant Leap Consulting, Inc., an organizational devel- opment company whose motto is Daring to Excel. From 1996-2002, Treasurer was a consultant with Accenture, a large management and technology consulting company. After working in the areas of executive communications and change management, Treasurer became a full-time internal executive coach on Accenture's largest client engagement. Prior to joining Accenture, Bill was a vice president at Executive Adventure Inc., an Atlanta-based team-building company where he facilitated corporate team-building events. He began his consulting career at High Performing Systems Inc., where he designed and delivered leadership and team development programs. Treasurer has worked with over 75 prominent organizations in the area of organizational development, leadership, change management, and team-building. He holds a Masters Degree in Administrative Science, with a concentration in OD, from the University of Wisconsin Green Bay. His under- graduate education is from West Virginia University, where he attended school on a full athletic scholarship.
Advertisement