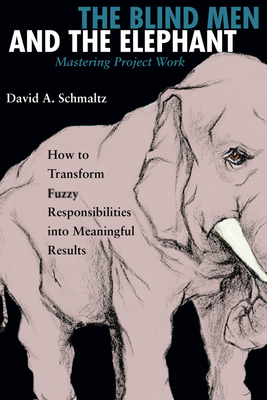 The Blind Men and the Elephant
Mastering Project Work
Paperback

* Individual store prices may vary.
Description
If you work, you probably manage projects every day-even if "project manager" isn't in your official title-and you know how frustrating the experience can be. Using the familiar story of six blind men failing to describe an elephant to each other as a metaphor, David Schmaltz brilliantly identifies the true root cause of the difficulties in project work: "incoherence" (the inability of a group of people to make common meaning from their common experience).
Schmaltz exposes such oft-cited difficulties as poor planning, weak leadership, and fickle customers as poor excuses for project failure, providing a set of simple, project coherence-building techniques that anyone can use to achieve success. He explains how "wickedness" develops when a team over-relies on their leader for guidance rather than tapping their true source of power and authority-the individual.
The Blind Men and the Elephant explores just how much influence is completely within each individual's control. Using real-world stories, Schmaltz undermines the excuses that may be keeping you trapped in meaningless work, offering practical guidance for overcoming the inevitable difficulties of project work.
Praise For The Blind Men and the Elephant: Mastering Project Work…
"Don't start your next project till you've read it."
Berrett-Koehler Publishers, 9781576752531, 160pp.
Publication Date: April 13, 2003
About the Author
DAVID A. SCHMALTZ had no idea what he was getting into when he volunteered to help clean up the mess following a bungled computer system conversion back in the '70s. He found that his back- ground as a freelance singer-songwriter and a pot washer prepared him well for the realities of project work. While helping to clean up the conversion mess, he started looking for but couldn't find much practical information about what makes projects work. He found instead endless recipes that seemed certain to cause messes like the one he was cleaning up. Between the fantasy that people should be able to accurately estimate novel efforts, the notion of "planning the work and working the plan," and the vacuous idea that on- time, on-budget, on-spec could meaningfully measure success, he concluded that project management theory offered a nearly total lack of real-world utility. "The most popular placebo in business today," he calls it. Nearly a quarter-century of experience hasn't changed David's opinion.
or
Not Currently Available for Direct Purchase