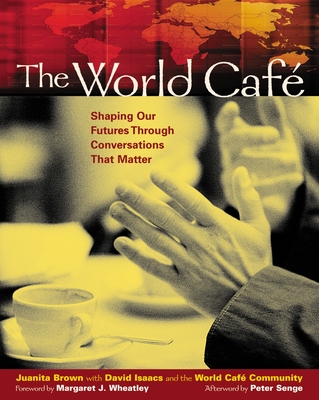 The World Café
Shaping Our Futures Through Conversations That Matter
Paperback

* Individual store prices may vary.
Other Editions of This Title:
Paperback, Large Print, Large Print (6/1/2010)
Description
The World Cafe is a flexible, easy-to-use process for fostering collaborative dialogue, sharing mutual knowledge, and discovering new opportunities for action. Based on living systems thinking, this innovative approach creates dynamic networks of conversation that can catalyze an organization or community's own collective intelligence around its most important questions.
Filled with stories of actual Cafe dialogues in business, education, government, and community organizations across the globe, this uniquely crafted book demonstrates how the World Cafe can be adapted to any setting or culture. Examples from such varied organizations as Hewlett-Packard, American Society for Quality, the nation of Singapore, the University of Texas, and many others, demonstrate the process in action.
Along with its seven core design principles, The World Cafe offers practical tips for hosting "conversations that matter" in groups of any size- strengthening both personal relationships and people's capacity to shape the future together.
Praise For The World Café: Shaping Our Futures Through Conversations That Matter…
"After all these years, I can still remember my first World Café! Our success with the "Commons Café" would not have been possible without this groundbreaking work."
--Sharif Abdullah, founder, the Commonway Institute, and author of Creating a World that Works for All

"World Café conversations are one of the best ways I know to truly enhance knowledge sharing and tap into collective intelligence. The few simple principles in this book can lead to conscious conversations with the power to change not only the individuals who participate, but also our collective future."
--Verna Allee, author of The Knowledge Evolution and The Future of Knowledge

"The wisdom of many voices speaks from these pages! May we take seriously their invitation to call forth what has heart and meaning in our world through conversations that matter."
--Tom Atlee, founder, The Co-Intelligence Institute, and author of The Tao of Democracy

"The capacity to see the world of the "other" sounds simple, but it is not. Yet it is the core of creating a new human history together. The World Café and this book serve as an inspiration to help make that possible."
--Lic. Esteban Moctezuma Barragan, Mexico's former Minister of Social Development

"The prevailing wisdom is that talk is cheap and that it's a poor, timid substitute for action. This warm and inviting book demonstrates that conversation is action, because it is the wellspring from which relationships and trust are generated and informed decisions grow."
--Thomas F. Beech, President and CEO, Fetzer Institute

"The challenge of leadership in these times of breathtaking speed and exhausting complexity is to find creative ways to embrace the future, and let go of the past. World Café dialogue provide us the opportunity to do just that."
--Paul Borawski, Executive Director and Chief Strategic Officer, American Society for Quality

"Understanding the World Café's fascinating model of a living social system is essential for the understanding of life and leadership in human organizations."
--Fritjof Capra, author of The Web of Life and The Hidden Connections

"The World Café couldn't be more timely. It offers inspiration and practical guidance to those who want to convene groups—even very large groups—for conversations that stimulate hope, creativity, and collective commitment."
--Laura Chasin, founder and Director, Public Conversations Project

"This book and the stories in it offer hope for addressing complex challenges and provide methods for strengthening family and community relationships. It is truly a work of art and a very important contribution."
--Rita Cleary, co-founder, Visions of a Better World Foundation

"World Café conversations touch the heart of what "human being" or "being human" means. By cherishing and including diverse voices, this book models the very nature of collective knowledge that is the heart of the World Café approach to dialogue."
--Sara Cobb, Director, Institute for Conflict Analysis and Resolution, George Mason University, and former Executive Director, Program on Negotiation, Harvard Law School

Berrett-Koehler Publishers, 9781576752586, 264pp.
Publication Date: May 15, 2005
About the Author
Juanita Brown, Ph.D. is co-originator of the World Café and has served as a Senior Affiliate at the MIT Sloan School's Organizational Learning Center (now Society for Organizational Learning), as a Research Affiliate with the Institute for the Future and as a Fellow of the World Business Academy.
David Isaacs is President of Clearing Communications and designs strategic dialogue forums with senior leaders in the U.S. and abroad. David is also a co-originator of the World Café and serves as adjunct faculty with the University of Texas Business School's Executive MBA Program.
The World Café Community is made up of organizational and community leaders and others who are fostering conversational leadership across the globe.