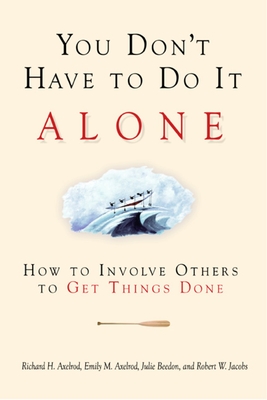 You Don't Have to Do It Alone
How to Involve Others to Get Things Done
Paperback

* Individual store prices may vary.
Description
We all need to involve others to accomplish tasks and achieve our goals, but all too often involving others seems like more trouble than it's worth. You Don't Have to Do It Alone Alone is the Swiss Army Knife of involvement—a set of tools that can be used in any setting to get you the help you need. The authors lay out a simple, straightforward plan for involving others to get things done, detailing a practical five-step involvement process that begins with five key questions:

What kind of involvement is needed?
How do I know who to include?
How do I invite people to become involved?
How do I keep people involved?
How do I finish the job?

The answers to these questions serve as a guide to finding the right people and keeping them energized, enthusiastic, and committed until the work is completed. Real life examples from corporations, government, and nonprofits illustrate the process in action. You'll learn to involve others in a way that will actually make your work easier, resulting in less stress, better ideas, and more successful outcomes.
Praise For You Don't Have to Do It Alone: How to Involve Others to Get Things Done…
"I worked with one of the authors of this book on a major programme of reform. When we started I wasn't sure these ideas for involving people would work. But they did. The whole thing was a huge success and I was proud of it. The book is an easy read and shows a wise understanding of human nature. I commend it."
—Lord Wilson of Dinton, Master of Emmanuel College, Cambridge, Former Cabinet Secretary and Head of the UK Home Civil Service

"When you are doing something big, intentional design and high involvement strategies lead to great results. Dick, Emily, Julie, and Jake's book gives us practical guidance on how to get such results. These ideas can be used equally by project managers, line managers, union leaders, community organizers, and even by family members."
—Jan Mears, Human Resources Director, Global Supply Chain, Kraft Foods

"An extraordinarily useful, user-friendly, and wise guide for creating the conditions for true participation. In the current climate, we keep forgetting that people only support what they create. Here is easy guidance for how to engage people so that they genuinely support change."
—Margaret J. Wheatley, author, Leadership and the New Science, Turning to One Another, A Simpler Way

"You Don't Have to Do It Alone is a fresh, optimistic, practical guide to involving others. Chock full of examples, tools, and checklists, it enables you to involve others in an organized and thoughtful manner. The rich wisdom contained within will appeal to novice and experienced leaders as they apply its lessons in religious organizations, community groups, businesses, and even their own families! This book promises that you don't have to do it alone and delivers on its promise in a most empowering manner."
—Philip Mirci, Ph.D., Director, Student and Family Advocacy for San Bernardino County Superintendent of Schools

"You Don't Have to Do It Alone comes at a perfect time for our organization and is a marvelous companion to Terms of Engagement. As we work toward our vision—Better Health, Best in Healthcare—we know there will be profound change in how care is delivered, how individuals and communities interact with the health system, and how change is led and implemented. We now have a clear, pragmatic, and workable framework for moving forward by dealing with our fears and focusing on our hopes."
—Geoffrey Crampton, Vice President, Human Resources & Organization Development, Fraser Health Authority, Surrey, Canada

"You know how strategic plans sometimes gather dust? Not so in our organization. We followed the steps in You Don't Have to Do It Alone, and that helped us form stronger partnerships with students, parents, teachers, universities, and the people who fund us. We are refocused and recommitted to our mission, and we've developed forward thinking action plans that we are now implementing."
—Arnold Aprill, Executive Director, Chicago Arts Partnership in Education

"Involving others is fundamental to the work of the church. This book offers a multitude of useful and practical insights to help us involve others more effectively and is a first class tool, especially for those of us working with large numbers of volunteers."
—Rt. Rev. Dr. Alan Smith, Bishop of Shrewsbury

"You Don't Have to Do It Alone is one of the clearest books I have ever read. There isn't one wasted sentence. Human resource professionals, team leaders, supervisors, and managers will all find something here to make them more effective. I particularly like the tools and templates that accompany each major concept. They are easy to use and can be applied in many different settings."
—Ken Goldstein, Director of Management Development, Mattel, Inc.

"You Don't Have to Do It Alone inspires you to take the risk and involve others. Its practical approach is so easy to follow and I had never before realized the power of invitations. As I read each chapter, I was left with a feeling of wanting to 'have a go.' The checklists are superb once your project is underway. This is an invaluable resource for any school community."
—Helen McKay, Head Teacher, St. Michael's Church of England Primary School, Lichfield

"An indispensable, practical guide on how to successfully introduce involvement practices in the workplace. A 'must read' if you want to increase the commitment and engagement levels of your people."
—Anne Gill, Vice President, Human Resources, Avon Cosmetics, Ltd.

"This book is so smooth it's hard to imagine that four people wrote it. The authors lived what they are writing about—they got something wonderful done by involving each other. This is a practical book. It provides numerous stories and examples from multiple walks of life. The concepts come alive. They help me see new ways to involve others. I am using the 'How Do I Keep People Involved' chapter right now to work through a low energy period people are experiencing in a transformation project I am leading. I thank you for an easy-to-read, action-oriented presentation about when, why, and how to involve others to get things done."
—Carl McAulay, Vice President, Human Resources, Unocal Corporation

"You Don't Have to Do It Alone will be an important resource for everyone who knows the value of teamwork but worries about the difficulties involved in establishing it. It will be particularly helpful in the not-for-profit sector, where staff are expected to involve and consult but haven't always had the practical tools to help them put those fine words into practice. Now they do."
—Simon Bottery, Communications Director, Citizens Advice Bureau, United Kingdom

"The book makes a strong case for involving others to solve many organizational problems. With it you can confidently reach out to others for help and get things done in families, communities, and all dimensions of life."
—Dr. Rogelio A. Martinez H., Organizational Transformation Consultant and Professor, Tecnológico de Monterrey, EGADE, Monterrey, N. L., Mexico

"The Axelrods, Beedon, and Jacobs present a powerful challenge to the way many leaders 'get things done.' If the ideas in the book were adopted wholesale by the leadership community, we would waste a lot less energy on implementing change programs that will never fulfill their promise."
—Helen Bevan, Director of Innovation & Knowledge, NHS Modernisation Agency, Leicester, England

"You Don't Have to Do It Alone is a book you will want to keep on your desk and turn to often. The authors weave together a bit of Maslow in basic human understanding with John Lockeian higher ideals, wrapped in a healthy dose of Tom Sawyer practicality. With this book, you will get your fence painted!"
—Ron Thomas, Executive Director, Northeastern Illinois Planning Commission

Berrett-Koehler Publishers, 9781576752784, 120pp.
Publication Date: September 12, 2004
About the Author
Richard H. Axelrod is co-founder of The Axelrod Group, Inc, and the author of Terms of Engagement.

Emily M. Axelrod is co-founder of The Axelrod Group, Inc.

Julie Beedon is the CEO of VISTA Consulting Team Ltd., and coauthor of Meetings By Design.

Robert W. Jacobs is President of Robert W. Jacobs Consulting, Inc., and the author of Real Time Strategic Change.
or
Not Currently Available for Direct Purchase