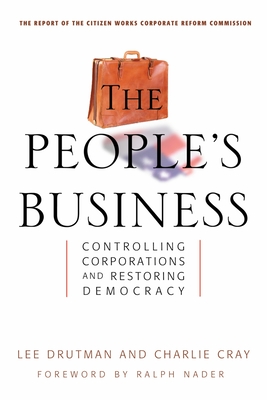 The People's Business (Hardcover)
Controlling Corporations and Restoring Democracy
Berrett-Koehler Publishers, 9781576753095, 360pp.
Publication Date: November 14, 2004
* Individual store prices may vary.
Description
Giant corporations wield excessive influence over our lives, often with frightening consequences: environmental destruction, political corruption, increased polarization of wealth, and stagnating wages and benefits. The rampant epidemic of accounting fraud, tax avoidance, outsourcing and war profiteering in recent years has reconfirmed the widespread conviction that corporations are getting increasingly out of control, with potentially dangerous consequences for the communities where they operate, their own employees and even for their owners, the shareholders.

The People's Business tells us what we can do to fight back. Drutman and Cray show how corporations achieved their current privileged position and offer a comprehensive approach for reforming them so that they serve as engines of public prosperity, rather than as the tools of private plunder. They present recommendations from the prestigious members of the Citizen Works Commission on Corporate Reform—which includes such notable members as Ralph Nader, David Korten, Herman Daly, Medea Benjamin, and many others—to outline a clear-headed plan of action to:

Get corporations out of politics
Establish truly public-minded regulation of corporate behavior
Combat unfair market domination by a handful of large corporations
Crack down on corporate crime
Challenge the corporate claim to constitutional rights

Bolstered with relevant history and recent examples, The People's Business details immediate measures for effectively reforming the corporation.
About the Author
Lee Drutman is a member of the Citizen Works Corporate Reform Commission and the former editor of Citizen Works's Corporate Reform Weekly, an e-mail newsletter detailing the latest in corporate reform and corporate scandal. His commentaries have been published in many outlets, including the Los Angeles Times, New York Newsday, and the Providence Journal, and online at TomPaine.com, Alternet.org, and CommonDreams.org, among other websites. He has critiqued corporate wrongdoing on National Public Radio, the BBC, and NBC's Today Show and is a regular commentator on Business Talk Radio's Business Talk This Morning. Lee is a former staff writer for both the Philadelphia Inquirer and the Providence Journal. He is also a 1999 graduate of Brown University, where he earned Phi Beta Kappa and magna cum laude honors.
Charlie Cray is a member of the Citizen Works Corporate Reform Commission and the director of the Center for Corporate Policy in Washington, D.C., a nonprofit public interest group working to make corporations publicly accountable. He is the former director of the Citizen Works Campaign for Corporate Reform. Between 1999 and 2002, he was associate editor of Multinational Monitor magazine, the only monthly magazine devoted exclusively to reporting on corporate abuses worldwide. He worked for over ten years for Greenpeace USA's toxics campaign, focusing on the threats of PVC plastic and hazardous waste incineration. While at Greenpeace, he published a long report on Waste Management, Inc. and contributed to other reports on Dow Chemical and other companies. He worked as a paralegal for Mayer, Brown & Platt in Chicago, his hometown, and holds a B.A. in English and American studies from Amherst College.
Praise For The People's Business: Controlling Corporations and Restoring Democracy…
"The People's Business goes directly to the central political and economic issue of our times. It is a book that deserves, even demands, the attention of every American regardless of their political views or values. This is a debate that must be revisited—and soon, or the survival of our republic is most certainly in jeopardy."
—Robert W. McChesney, author of The Problem of the Media

"The ultimate post-Enron citizens' guide to a better world. This book offers the vision and the practical tools to liberate ourselves from our tragic state of corporate occupation." —Charles Derber, Professor of Sociology, Boston College and author of Corporation Nation and Regime Change Begins at Home

"When the time comes—and it really will—that we Americans mobilize to take back our democracy and rein in corporate excess and abuse, this book will be there for us as our road map!"
—Frances Fox Piven, Professor of Public Policy and Public Administration, City University of New York Graduate Center, author of Why American Still Don't Vote and The War at Home

"This is a comprehensive, readable compilation of governance experience and wisdom that provides new insights. It is one of a handful of books that people interested in the relationship of corporations to society should have at hand."
—Robert A.G. Monks, publisher and author of New Global Investors, Power and Accountability

or
Not Currently Available for Direct Purchase