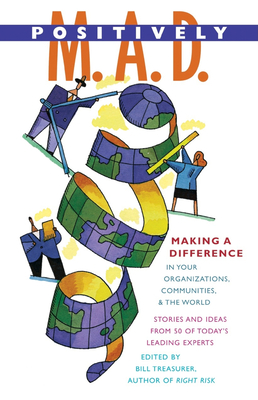 Positively M.A.D. (Paperback)
Making a Difference in Your Organizations, Communities, and the World
Berrett-Koehler Publishers, 9781576753125, 188pp.
Publication Date: January 1, 2005
Description
Visionaries and idealists are often dismissed as being, well, mad--stark-raving loonies. POSITIVELY M.A.D. turns such labels around--telling the stories of people who courageously pursued "crazy" ideas that challenged conventional thinking, re-imagined the way things could and should work, and, ultimately, made a difference. This compelling and moving guide to personal empowerment offers stories, advice, examples, and ideas that can be immediately applied in your own life. Told by more than 50 of Berrett-Koehler Publishers' bestselling authors--renowned business, community, and thought leaders--these stories show how people around the world are creating positive change in their communities, despite the challenges of our times.
About the Author
Bill Treasurer is founder and chief encouragement officer at Giant Leap Consulting (www.giantleapconsulting.com), a courage-building company that helps people and organizations be more courageous. Among his clients are Accenture, CNN, EarthLink, SPANX, the Centers for Disease Control, the Drug Enforcement Administration, and the U.S. Department of Veterans Affairs. He is the author of Right Risk and Courage Goes to Work. Prior to founding Giant Leap, Treasurer was the captain of the U.S. High Diving Team and performed over 1,500 dives from heights that scaled to over 100 feet.
Advertisement