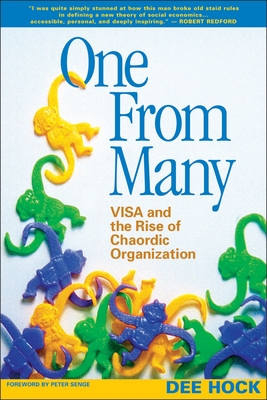 One from Many (Paperback)
VISA and the Rise of Chaordic Organization
Berrett-Koehler Publishers, 9781576753323, 336pp.
Publication Date: October 16, 2005
* Individual store prices may vary.
Description
Far more than a riveting inside story of the creation of VISA—now the largest commercial enterprise on earth—One from Many is an absorbing story of personal and institutional transformation. Lyrical, profound, often humorous, it explores the ever-increasing change, complex societal problems, and failing institutions that confront us all. Dee Hock chronicles the emergence of a new form of organization that blends chaos and order, which may be critical to a livable future, and shows how it is emerging in such effective organizations as VISA, the Internet, World Weather Watch, and Alcoholics Anonymous. A beautiful blend of history, biography, and philosophy, One from Many not only challenges the way we think about organizations, management, and our relationship to the natural world, it's a rollicking fine story as well.
About the Author
Dee Hock is founder and CEO emeritus of VISA. In 1991, Hock became one of thirty living Laureates of the Business Hall of Fame, and in 1992 was recognized by Money magazine as one of the eight individuals who most changed the way people live in the previous quarter century.
Praise For One from Many: VISA and the Rise of Chaordic Organization…
"Every now and then a book breaks through to new ground in discovery. Looking at business and innovation together, Dee Hock offers an exciting look at the role of creative thinking in a sustainable future. I was quite simply stunned at how this man broke old, staid rules in defining a new theory of social economics: accessible, personal, and deeply inspiring."
-Robert Redford

"From the military, to commerce, to the arts, our first priority is new models for effectively organizing human endeavor to match the wildly altered times. Dee Hock's One From Many is the most original and apt approach to organizing we have been offered so far. It clearly fits the 'must read, ''must absorb' category for leaders in every sector."
-Tom Peters

"Entrenched, rigid bureaucracy is the common chain around mankind in the corporate, private, and public sectors. Dee Hock knows how to replace it trans-culturally with generic, adaptable structures that breathe, innovate, respond, and recover as if reality and their loftier purposes matter first and foremost. Dee Hock's book One from Many is an organizational revolution that the world ignores at its stagnant peril."
-Ralph Nader

"Reads as good as Ben & Jerry's ice cream tastes. If you care deeply about the future of people, place, or planet, be prepared for a surprise —as well as a real treat."
-Ben Cohen, President, Businessmen for Sensible Priorities, and Co-founder, Ben & Jerry's

"There are very few people who have changed the world: Dee Hock is one of them. His book is a celebration of the redesign of human ego-systems and eco-systems, including the most visceral and urgent form of communication—currency. There are very few books that can change one's life; this is one of them. A person with ideas that can change the world whose book can change your mind. I have read it twice, sent copies to my friends, and that is not enough."
-William McDonough, architect, designer, futurist; Principal, McDonough Consulting; and Professor, Cornell, Stanford, and Virginia Universities

"Dee Hock, practical visionary extraordinaire, has rearranged our mental furniture. If you think you already know how we think, organize ourselves, and achieve breakthrough results, be prepared to be surprised by this remarkable book."
-Amory B. Lovins, CEO, Rocky Mountain Institute

"Dee Hock has had a profound impact on my thinking and on my view of governance and problem-solving in America. After 24 years in elective office, including two terms as governor of Oregon, I have seen firsthand the need for the kind of new organizational structures described in this remarkable book. One From Many is a must read for anyone who is serious about meeting the challenge of institutional failure in the United States."
-John Kitzhaber, former governor of Oregon

"Dee Hock has produced a powerful, profoundly important, and beautifully written book. It is the moving personal story of a young boy growing up dirt poor in rural Utah, who went on to change the way the world does business. Here we see the mind behind the revolutionary global VISA model—a model that balances cooperation and competition in a way unlike anything ever seen before in commercial history. . . . No one knew how to approach this problem, or solve it. Someone suggested Hock. The rest is history and a rattling good story."
-Barry Sheehy, CEO, CPC Econometrics, Inc.

"Dee Hock's work will do for organization theory in the post-industrial age what the steam engine did for the industrial age."
-Bernard Lietaer, Chairman, Access Foundation, and author of The Future of Money

"One From Many is a book about organizational illness, sick leadership, and political cynicism. It is, thank God, even more a book about hope, social innovation, and down-to-earth, magical, organizational results. Mind-moving, playful, and beautifully written, it is also a compelling story of what mankind can be if we dare to be truly human. It has profoundly affected our students."
-Uffe Elbaek, Founder of the Kaospilot University, Denmark

"Dee Hock offers a vision that can transform any organization. His insights are brilliant and humane, his prescription is smart and workable. This is a book that aspiring leaders need to embrace."
-Alan M.Webber, Founding Editor, Fast Company magazine

"One From Many is about a new organizational form (chaordic) for human systems in harmony with the principles of nature and life itself. Anyone who imagines living in such a future will be captivated by the wisdom of this book. It maps our journey to purposeful, life-affirming organizations essential for a sustainable future."
-Stephanie Pace Marshall, Ph.D., Founding President, Illinois Mathematics and Science Academy

"The originality and profundity of Dee Hock's wisdom can and does revolutionize institutions. I can bear witness to that in terms of his counsel in the creation of the United Religions Initiative. He made it possible for URI to flourish."
-The Rt. Rev.William E. Swing, President,United Religions Initiative, Bishop, Episcopal Diocese of California

"Dee Hock's genius and vision has made it possible for organizations of all types and sizes to re-envision themselves in new ways. One From Many encompasses quantum physics, chaos theory, cellular biology, the butterfly effect, the natural world, and common sense. One From Many is a must read for anyone seeking to understand the organization of the future."
-Michael Toms, Founding President and Executive Producer/Host, New Dimensions Radio

"Dee Hock's work has become required reading for academic medicine. Once it is clear that improving patient care is the only purpose that matters, smart people begin to act smart again. Talent that had been paralyzed by dysfunctional systems becomes unleashed and is available to do the work of medicine and teaching."
-David C. Leach, M.D., Executive Director, Accreditation Council for Graduate Medical Education

"Hock is a gentle giant who successfully challenged traditional management and organization of a global industry. His 'new way of thinking' ideas can change the way all of us approach our own lives and institutional structures."
-Linda Golodner, President, National Consumers League

"Dee Hock describes a new organizational culture that might well spell the difference between a smooth, orderly transition to a more salubrious, sustainable society and the chaos and anarchy some see in our near-term future."
-Willis Harman, Founder, World Business Academy and former President, Institute of Noetic Sciences

"I highly recommend this book. There is no simpler way of learning the principles of chaordic organizations than from their inventor, Dee Hock, and there may be no more rewarding endeavor than to find out what it means to your own organizational dreams and visions."
-Karl-Henrik Robert, M.D., Founder, The Natural Steps International

"This book is a rarity! The ideas and experience in One From Many changed the way the world works. Read it at the risk of ending complacency and inaction. Buy a case now and save the trouble of replacing it each time you feel compelled to give your copy to someone who cares about making a difference."
-Greg Steltenpohl, Founder, Odwalla, Inc.

"Nothing is more important in today's world than for humanity to understand itself as a living system and move forward into the cooperative chaordic age Dee Hock both pioneered and interprets for us so eloquently. Read this fascinating book and take action!"
-Elisabet Sahtouris, Ph.D., evolution biologist and futurist; author of EarthDance

"Dee Hock did what most senior executives would consider total madness. He gave up the illusion of control in order to allow a great organization to be born. And then he had the audacity to describe his adventure in frank detail."
-Harrison Owen, creator of Open Space Technology

"Hock describes the context and chaordic processes present in the creative forces of nature that similarly apply to humankind's efforts to reach our fullest potential. In no discipline will application of this vision be more critical for achieving the interconnectivity, decision support, and transformational clinical integration needed for the 21st century than in health care. Read this book!"
-Jack Lewin, M.D., CEO, California Medical Association and Chairman, Patient Safety Institute

"The leaders of today's most outstanding schools understand that topdown leadership does not create the kind of collaborative learning teams that every school needs. Hock's seminal book should be read by everyone who wishes to create environments in which all students and teachers are successful."
-Dee Dickinson, Chief Learning Officer and Founder, New Horizons for Learning

"True brilliance is simplicity. Dee Hock understands like no one else how seemingly mundane elements like bylaws, organizing principles, and charters allow the most complex behaviors to occur in harmony. When the core is well conceived and pure, then incredible, productive activity will surround it."
-Luther Nussbaum, CEO, First Consulting Group

"One From Many is quite simply the most important organizational leadership book of this century. If we manage to survive this century with the Earth's ecosystems, climate, water, biodiversity, and societies intact, it will be in no small part due to the rapid adoption of the vital ideas in this book."
-Molly Harriss Olson, Founder, National Business Leaders Forum on Sustainable Development (Australia) and Founding CEO, President Clinton's Council on Sustainable Development

"This is one of the most important books you will read in this decade. It will widen your periphery and cause you to think about how you can, and must, risk your significance."
-Dawna Markova, Ph.D., author of I Will Not Die an Unlived Life and The SMART Parents Revolution, and co-editor, Random Acts of Kindness

"Dee Hock is a remarkable business pioneer and a social science genius. His principles are simple and straightforward and cause the reader to view complex interpersonal dealings in a whole new light that can produce tangible and often previously unexpected results."
-Jack A. Newman, Jr., Executive Vice President, Cerner Corporation

"The relevance of Dee Hock's concepts of organizational development increases with each passing month, specifically for those who have leadership responsibilities that require dealing productively with complexity, diversity, and change. His chaordic concepts of organization have had immeasurable importance to my work in organizational governance, as a CEO, as an organizational consultant, and as a university instructor. Having the insight and tools to bring unity and a sense of oneness into the workplace and into daily practice is nothing short of mandatory."
-Richard Raymond, CEO, First Gate Energies

"Dee Hock's work represents a cornerstone in the evolution of the art of leadership and management. If you want to discover what the System is, but you want also to transform it for the benefit of all, this book is a must."
-Oscar Motomura, Founder and CEO, The Amana-Key Group, São Paulo, Brazil

"[Visa founder Dee Hock] tells the story of the conversion of a lossmaking activity into one of the fastest-growing, most successful commercial enterprises of today. Its corporate structure and rules are revolutionary. And not only is it successful and huge, it is also quite safe from barbarians, both outside and inside the gate. Anyone needing a blueprint for the successful company of the future should read this book."
-Arie de Geus, author of The Living Company

"Read One From Many carefully! It's full of unique, intriguing, new ideas that will change the way you think about organizations and behave within them."
-Craig A. Pendleton, Coordinating Director, Northwest Atlantic Marine Alliance

"Global organizations, like the U.S. intelligence community, are facing the classic centralize/decentralize dilemma where the trade-offs are too costly in terms of human life. It's time for a third approach and Dee Hock is the one (and maybe only) individual on the planet who has some worthy insights."
-Verne Harnish, Founder,Young Entrepreneurs' Organization, and author of Mastering the Rockefeller Habits

"Dee Hock's insights and experiences provide us with the inspiration and the tools to develop organizations that are inclusive, just, and profitable."
-Jane L. Delgado, Ph.D., MS, President and CEO, National Alliance for Hispanic Health

"Organizations often suck the life out of people by treating them as expendable components of production. By contrast, Dee Hock has pioneered a new type of organization that not only breathes life into people, but provides them with a platform to realize their full potential. This kind of organization, with a fully engaged work force, could literally change the world."
-Dennis Whittle, Founder and CEO, Global Giving

". . . a story of organizational growth on a global scale, from which we can all learn a great deal. Dee Hock, a foresighted entrepreneur of institutional renewal, has extracted a fundamental story that others can follow to shape the new, value-creating commons."
-Leif Edvinsson, Director of Intellectual Capital, Lund University, Sweden