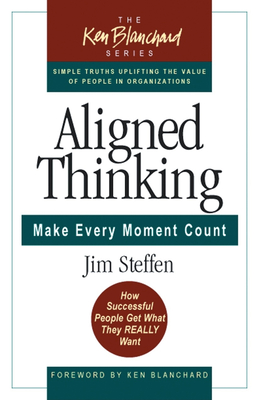 Aligned Thinking (Hardcover)
Make Every Moment Count (The Ken Blanchard Series - Simple Truths Uplifting the Value of People in Organi)
Berrett-Koehler Publishers, 9781576753606, 160pp.
Publication Date: January 8, 2006
Other Editions of This Title:
Paperback, Spanish (7/1/2006)
* Individual store prices may vary.
Description
Too much to do! I never get anything done! I have so little control over my life!

These were thoughts Ray had as he headed home later for supper, confident his wife, Carol, would be sympathetic to his problem.

One sentence into unloading his problems on her, he heard, "Too much to do? Tell me about it!" Her problems were as big as or even bigger than his.

When they went to a friend for help, they discovered more than hope, "That sounds like us several years ago. But Coach Eric's Aligned Thinking not only solved those problems, it helped us to do what most people believe impossible: align every action to what we really want.

With mild hope and huge skepticism, Ray and Carol visited Coach Eric and gave him a description of their ideal professional and personal life. Coach Eric assured them that Aligned Thinking could help them enjoy each item on their list. However, when he asked them to add to their list "make every moment count so life becomes a celebration," Ray and Carol became even more skeptical.
About the Author
DR. R. JAMES (JIM) STEFFEN, president and founder of Steffen, Steffen & Associates, Inc. (SSA International), is an internationally known author, speaker, consultant, and trainer. He is recognized as an expert in Aligned Thinking and Time Mastery, leadership, productivity, and Successful Partnering, which focuses on creating very satisfied, loyal customers and employees. Because of his record of accomplishment, he has had opportunities to work with more than 140 Fortune 500 companies.
Praise For Aligned Thinking: Make Every Moment Count (The Ken Blanchard Series - Simple Truths Uplifting the Value of People in Organi)…
"I've always believed that life is a very special occasion—and special occasions are meant to be celebrated! Yet the pressures of life often leave us feeling too stressed to enjoy each day, let alone celebrate each moment. This book can change that. . . . Aligned Thinking has made a tremendous difference in my life. I invite you to open this book."
From the foreword by Ken Blanchard, coauthor of The One Minute Manager®

"This warm and wonderful book shows you how to align every part of your life with your innermost values and your deepest convictions. It makes you a new person!"
Brian Tracy, author of the national bestsellers Eat That Frog! and The 100 Absolutely Unbreakable Laws of Business Success

"To really get what you want, the first thing you'll want to get is this remarkable book."
Harvey Mackay, author of the #1 New York Times bestseller Swim with the Sharks without Being Eaten Alive

"Voices like Steffen's are sorely needed today. This book will get you to think about your life and work in a holistic fashion."
Eric Tyson, author of the national bestseller Personal Finance for Dummies

"Aligned Thinking does more than just present time-proven principles of 'Aligned Thinking' for living life more fully—this book weaves thought-provoking guidelines into the fabric of a real- life story. Want to take charge of your life and live with more direction, meaning, and satisfaction? Begin by reading this practical, pragmatic book!"
Paul J. Meyer, founder of Success Motivation International, Inc., and author of the New York Times bestseller Unlocking Your Legacy: 25 Keys to Success

"I first learned of 'Aligned Thinking' as a General Motors dealer more than twenty years ago. I found it simple to use, especially when I thought I had too much to do. I have used it every day since to add more success and meaning to my life. Aligned Thinking has taken me to the next level. I will give copies to all my key clients so that I may share this wonderful gift. The book should become a classic."
Gary Polakoff, Financial Advisor, Merrill Lynch

"Aligned Thinking, a very insightful approach to identifying how to truly make life a celebration and not drudgery."
Dan Wiersma, Senior Vice President and General Manager, Sony Professional Services

"This book will help to move you closer to your higher life purpose."
Dick Morton, Chief, Classroom Operations, Graduate School, USDA

"Aligned Thinking is a book I will have my staff read and also recommend to family and friends."
Jake Monaghan, Executive Director, Customer Care, SBC

"A simple formula to help us experience a wonderful life. Written in a story format, the book is warm, loving, and gives us pause to internalize those 'golden nuggets.' Easy reading with a valuable message for everyone."
Roger Henson, retired Vice President, Xerox Customer Service Operations

"Very empowering. . . . With the simple elegance of 'Aligned Thinking,' I have the freedom to celebrate life."
Mary P. Gai, editor and mother of four

"After I read Jim Steffen's Aligned Thinking, I knew I had to send copies to my clients. His book goes way beyond the master- ful techniques for time management it provides. He uniquely shows how to create a life worth celebrating by focusing on what is most important to us. He tells us simply and power- fully how to 'do the right things right' in our personal and professional lives."
Emilio De Lia, professional coach and retired AT&T executive