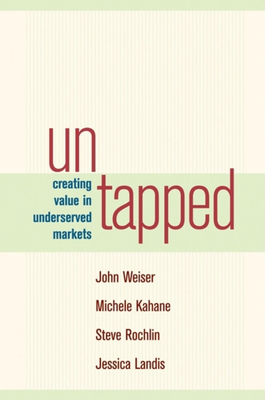 Untapped
Creating Value in Underserved Markets
Hardcover

* Individual store prices may vary.
Description
Underserved markets—communities made up of low- to moderate-income consumers—represent a multi-trillion dollar opportunity that has been largely ignored by most companies. With tremendous production and distribution potential, and growing workforce and supplier bases, these "base of the pyramid" markets are host to some of the fastest growing business opportunities around. They fill corporations' most pressing needs: increased sales, qualified workforces, reduced costs, and increased quality. Based on rigorous research on the success strategies employed by pioneering corporations, Untapped offers practical, tested tools for engaging consumers, workers, and suppliers to address the needs of both the corporation and the community.
Praise For Untapped: Creating Value in Underserved Markets…
"The authors have taken a complex subject and made it clear and understandable.  They describe both success strategies and pitfalls, giving practical advice that will help managers create value for company and community alike.  I heartily endorse this book."  
—Bob Stiller, President and CEO, Green Mountain Coffee Roasters, winner of Forbes magazine's 2001 Entrepreneur of the Year Award

"…. a highly readable and practical analysis of how companies from diverse industries have adapted their business models and practices to succeed in markets previously considered unattractive. This book can help readers reach these markets profitably as well as have the satisfaction of making a difference in underserved communities."
—Pamela Flaherty, Senior Vice President for Global Community Relations, Citigroup, winner of the 2005 Corporate Design Award, Global Green USA

"This book explains complex situations through clear, concise, real world examples that allow the reader to quickly grasp the concepts and see how they can be applied to achieve the desired 'Win-Win' outcome:  good products and services at fair prices for communities and a long term profitable result for businesses."
—Ed Charlebois, Vice President, Travelers Personal Lines, St. Paul Travelers, former chairman, National Insurance Task Force, winner of the Community Development Corporation of Long Island's Opportunity Award

"As we engage with communities, there is a constant creative tension in figuring out what we can give, and what we can get. Untapped examines this issue from a corporate perspective— analyzing the challenges and opportunities in creating value by first empowering an underserved community."
—Russell Simmons, Chairman and CEO, Rush Communications, winner of the NAACP Lifetime Achievement Award

Berrett-Koehler Publishers, 9781576753729, 264pp.
Publication Date: June 11, 2006
About the Author
John Weiser is a founding partner in the firm of Brody • Weiser • Burns and an expert on using business strategies to achieve business and social goals. He has written numerous reports and books on this subject, including Conversations with Disbelievers. He has helped create, manage, and evaluate a range of corporate-community partnerships, including several profiled in this book.


Michele Kahane is Director of Special Projects for the Center for Corporate Citizenship at Boston College. Prior to working at the Center, she was a program officer in the Ford Foundation's Economic Development Unit. While there, she managed the Corporate Involvement Initiative, which sought to leverage private sector resources on behalf of low-income individuals. She also has been a Vice President in Emerging Markets at Chemical Bank.
Steve Rochlin is Director of Research and Policy Development for the Center for Corporate Citizenship at Boston College, which helps businesses leverage their social, economic, and human assets to ensure success and a more sustainable world. He has spent more than ten years working with Fortune 500 businesses, and producing leading research on "win-win" models of corporate citizenship. He is the author of many reports and books, including Defining the Value Proposition for Corporate Citizenship.
Jessica Landis is a research consultant at the Center for Corporate Citizenship at Boston College. She has contributed to many projects on corporate citizenship, including the Conversations with Disbelievers series and the Center's In Practice database.
or
Not Currently Available for Direct Purchase