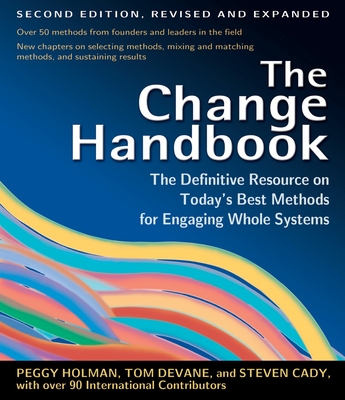 The Change Handbook (Paperback)
Group Methods for Shaping the Future
Berrett-Koehler Publishers, 9781576753798, 752pp.
Publication Date: January 4, 2007
* Individual store prices may vary.
Description
The Change Handbook features chapters by the originators and foremost practitioners of such high-leverage change methods as Future Search, Real Time Strategic Change, Gemba Kaizen, and Open Space Technology. The authors outline distinctive aspects of their approach; detail roles and responsibilities; share a story illustrating usage; and answer frequently asked questions about how to put it into practice. Examples of successful change efforts acquaint readers with the diverse array of methods being employed today. A one-stop comparative chart allows them to evaluate the methods to determine what will work best fro them, and an in-depth reference section helps them locate the resources they need to get started.
About the Author
Peggy Holman brings generative processes to organizations and communities, increasing their capacity for achieving what is important to them. Her work encourages people to take responsibility for what they love.
Tom Devane is an internationally known consultant and speaker who helps companies plan and implement transformations that utilize highly participative methods to achieve sustainable change.
Steven Cady is a professor in the management department at Bowling Green State University. He is also the director of the institute for Organizational Effectiveness and former chief editor of The Organization Development Journal.
Praise For The Change Handbook: Group Methods for Shaping the Future…
"An invaluable guide to the most promising change work being done in organizations today. The Change Handbook is a genuine gift to all those seeking to create workplaces that truly welcome people's commitment and creativity."
—Margaret J. Wheatley, author of Leadership and the New Science and coauthor of A Simpler Way

"The Change Handbook is about great ideas written from the experience of great people. If organization and community change is what you care about, and hope is what you long for, this book offers a doable path to both."
—Peter Block, author of Stewardship and The Empowered Manager

"Lots of change management books tell you how things work in theory. This one also shows how the culture change process at GTE and other companies work in practice. It's a good resource for any leader looking for both ideas and proven results."
—Tom White, senior vice president of market operations, GTE Corporation