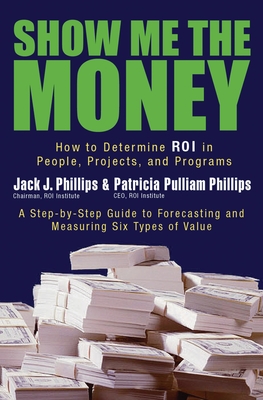 Show Me the Money
How to Determine ROI in People, Projects, and Programs
Hardcover

* Individual store prices may vary.
Description
From IT to HR, from boardroom to shop floor, increased accountability for achieving high-value results for new initiatives is increasing in every organization and department. Now the world's leading experts on ROI distill their years of experience and research into proven step-by-step tools for determining the value of any project before, during, and after implementation. Jack and Patti Phillips even show how to measure and place value on intangible qualities like leadership, creativity, customer loyalty, employee engagement, and more.

Show Me the Money provides a comprehensive system that enables business leaders, analysts, and consultants to make the case for their projects and get buy-in at the beginning, refine them during development, and communicate the ultimate results to all stakeholders once the projects are completed. Easy to read and fortified with case studies, checklists, tips, and tools, Show Me the Money clarifies and resolves the mystery surrounding the allocation of monetary values.
Praise For Show Me the Money: How to Determine ROI in People, Projects, and Programs…
"Show Me the Money answers the accountability questions for any program, project, or meeting. [It] provides a comprehensive method for showing the monetary success of meetings or events—or any program in any organization—using concrete measures in terms that any businessperson can understand."
— Deborah Sexton, President and CEO, Professional Convention Management Association

"A great resource. Show Me the Money provides a clear understanding of how to forecast and measure the value of a project before it is developed and implemented."
— Jan Dehesh, former Vice President/CIO Qualcomm, Inc., CEO, Dehesh International, Inc.

"With a step-by-step approach to calculating ROI and examples drawn from various fields and industries, this book gives you the tools to confidently support and evaluate any marketing program with your top executives."
— Paula Crerar, Vice President of Marketing, nTAG Interactive

"Provides practical guidance on a topic that many find as easy as rocket science to understand—that is, showing the value in evaluation. You need this book!"
— William J. Rothwell, Ph.D., SPHR, Professor, The Pennsylvania State University and President, Rothwell & Associates, Inc
Berrett-Koehler Publishers, 9781576753996, 288pp.
Publication Date: May 13, 2007
About the Author
A a world-renowned expert on accountability, measurement, and evaluation, Dr. Jack J. Phillips provides consulting services for Fortune 500 companies and major global organizations. The author or editor of more than 50 books, Phillips conducts workshops and makes conference presentations through- out the world.
His expertise in measurement and evaluation is based on more than 27 years of corporate experience in the aerospace, textile, metals, construction materials, and banking industries. Phillips has served as training and development manager at two Fortune 500 firms, as senior human resource officer at two firms, as president of a regional bank, and as management professor at a major state university.
This background led Phillips to develop the ROI methodology (a revolutionary process that provides bottom-line figures and accountability for all types of learning, performance improvement, human resource, technology, and public policy programs.
Phillips regularly consults with clients in manufacturing, service, and government organizations in 44 countries in North and South America, Europe, Africa, Australia, and Asia.
Dr. Patti P. Phillips is president of the ROI Institute, Inc., the leading source of ROI competency building, implementation support, networking, and research. She is also chair and CEO of The Chelsea Group, Inc., an international consulting organization supporting organizations and their efforts to build accountability into their training, human resources, and performance improvement programs with a primary focus on building accountability in public sector organizations. She helps organizations implement the ROI methodology in countries around the world—including South Africa, Singapore, Japan, New Zealand, Australia, Italy, Turkey, France, Germany, Canada, and the United States.
After a 13-year career in the electrical utility industry, Phillips took advantage of the opportunity to pursue a career in a growing consulting business where she was introduced to training, human resources, and performance improvement from a new perspective—a perspective that directly reflected her values of accountability, ROI evaluation. Since 1997, she has embraced the ROI methodology by committing herself to ongoing research and practice. To this end Phillips has implemented ROI in private sector and public sector organizations. She has conducted ROI impact studies on pro- grams such as leadership development, sales, new-hire orientation, human performance improvement, K-12 educator development, educators' National Board Certification mentoring, and faculty fellowship. Phillips is currently expanding her interest in public sector accountability through application of the ROI methodology in community- and faith-based initiatives, including Citizen Corps, AmeriCorps, and the Compassion Capital Fund.Phillips teaches others to implement the ROI methodology through the ROI certification process, as a facilitator for ASTD's ROI and Measuring and Evaluating Learning Workshops, and as adjunct professor for graduate- level evaluation courses. She speaks on the topic of ROI at conferences such as ASTD's International Conference and Exposition and ISPI's International Conference.
or
Not Currently Available for Direct Purchase