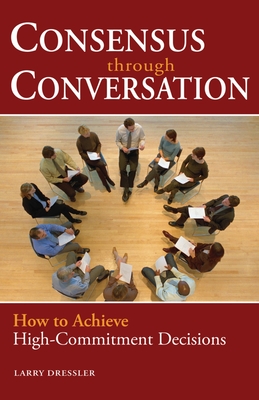 Consensus Through Conversations
How to Achieve High-Commitment Decisions
Paperback

* Individual store prices may vary.
Description
Whether you facilitate meetings for a living or simply as part of your job, you've surely found yourself "standing in the fire"—at the center of a group that is polarized, angry, fearful, and confused. Veteran facilitator Larry Dressler has found that what makes the crucial difference in these situations is the leader's presence. You have to master a way of being that allows you to remain effective no matter how hot things get.
Dressler shows how to cultivate six "stances"—mental, emotional, and physical— that will keep you steady, impartial, purposeful, compassionate, and good-humored,. Drawing on his own experiences and the insights of thirty-five distinguished practitioners, he helps you keep your cool and make the kind of inventive, split-second decisions these pressure-cooker situations demand.
Praise For Consensus Through Conversations: How to Achieve High-Commitment Decisions…
"In this wise and stimulating book, Dressler draws on his rich experience to show us how to bring our personal best to facilitating polarized group situations."
—William Ury, coauthor of Getting to Yes and author of The Power of a Positive No

"An invaluable companion for all those who train, facilitate, run, or design high-stakes meeings…Dressler's well of wisdom is awe-inspiring."
—Susan Scott, author of Fierce Conversations and Fierce Leadership

"A book for anyone who feels called to stand in hard places and help people find life-giving ways to proceed."
—Parker Palmer, author of A Hidden Wholeness, Let Your Life Speak, and The Courage to Teach

"Practical, insightful, and filled with entertaining stories. I recommend this book for anyone working in the arena of public engagement and deliberation."
—Sandy Heierbacher, Director, National Coalition for Dialogue and Deliberation

Berrett-Koehler Publishers, 9781576754191, 120pp.
Publication Date: November 12, 2006
About the Author
For more than fifteen years, Larry Dressler has designed and facilitated conversations and learning experiences that elicit new insights and inspire action in organizations. He is sought out by executive leaders as a trusted advisor on how to weave candor, commitment, collaboration and continuous learning into the fabric of the workplace.
As the founder of Blue Wing Consulting, Larry has traveled throughout the country speaking, consulting, and connecting with people who embody what he calls "Wide-Awake LeadershipTM." He has worked with a wide variety of organizations, including Nissan Motors, USC University Hospital, Starbucks, Washington Department of Ecology, Pediatric AIDS Foundation, U.S. Federal Protective Services, and Cisco Systems.
Described by clients as a "gentle instigator of breakthrough conversations," Larry's work has brought him to interesting places including the headquarters of companies in 30 industries, a "circus school" in Colorado, the Ecuadorian Amazon, and Skid Row, Los Angeles. Whether in a corporate boardroom, on a factory floor or underneath a rainforest canopy, Larry's special talent for posing powerful questions and setting collaboration in motion is at the heart of his work.
Larry's education combines the disciplines of social psychology and business strategy. He earned his BA degree in Sociology from UCLA and an MBA from the UCLA Anderson Graduate School of Management. He has also completed post-graduate coursework in Organizational Psychology. He lives with his wife, Linda in Boulder, Colorado.
or
Not Currently Available for Direct Purchase