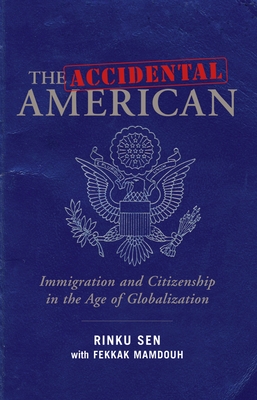 The Accidental American (Hardcover)
Immigration and Citizenship in the Age of Globalization
Berrett-Koehler Publishers, 9781576754382, 264pp.
Publication Date: September 8, 2008
* Individual store prices may vary.
Description
The Accidental American calls for a bold new approach to immigration: a free international flow of labor to match globalization's free flow of capital. After all, corporations are encouraged to move anywhere in the world they can maximize their earnings. People shouldn't have to risk exploitation, abuse, and even imprisonment when they try to do the same.

Activist, journalist, and immigration expert Rinku Sen and organizer Fekkak Mamdouh examine the consequences of this injustice through Mamdouh's own story. Born in Morocco, he was a waiter and union leader at Windows on the World, a restaurant in the World Trade Center. In the aftermath of September 11th, facing a rising tide of anti-immigrant bias, Mamdouh and others formed the Restaurant Opportunities Center of New York (ROC-NY) to help their colleagues fight for decent jobs and fair treatment. ROC-NY was able to unite native-born and immigrant workers, helping each group realize they were involved in a common struggle for better working conditions. The organization is now expanding nationwide.

Since 9/11, immigrants have increasingly been treated as presumptive criminals. As a counterpoint to these regressive, fundamentally un-American practices, the authors forcefully advocate more humane policies that would ease rather than restrict people's movements, coupled with proposals for reforming globalization so that both sending and receiving countries can more equitably benefit from a more mobile international labor force.

Immigrants enthusiastically contribute much more to our country than their labor. They ought to be welcomed, not marginalized. Citizenship should ultimately be determined by how willing people are to become a part of the social, civic, and political fabric of the country they live in, not by an accident of birth.
About the Author
Rinku Sen is president and executive director of the Applied Research Center (ARC) and the publisher of ColorLines magazine. She is the author of Stir It Up: Lessons in Community Organizing and Advocacy.
Fekkak Mamdouh is cofounder of the Restaurant Opportunities Center of New York and codirector of the Restaurant Opportunities Center United, the country's first national restaurant worker organization.
Praise For The Accidental American: Immigration and Citizenship in the Age of Globalization…
"The Accidental American gives us the context, story and analysis we need for a just immigration policy. It is a must-read."
—Danny Glover, actor and activist

"If you have ever had to struggle as an outsider or a newcomer (and all of us have), this book will touch your heart. It is a poignant story that points the way forward for us all."
—Van Jones, President and Founder, Green for All, and author of The Future is Getting Restless

"Windows on the World was the name of the World Trade Center restaurant that was destroyed on 9/11, and in The Accidental American it provides a window with a striking view. Sen and Mamdouh show how, in a few weeks in 2001, the restaurant's immigrant workers went from being victims of terrorism to being targets of American anti-immigrant fervor. There's a bright side, though, because this book vividly highlights a seldom-mentioned side of recent immigrants' experience: their willingness to struggle for better working conditions for workers of all ethnicities in their adopted nation."
—Barbara Ehrenreich, author of Nickel and Dimed, Bait and Switch, and Dancing in the Streets

"By focusing on the concrete experiences of particular people, Sen and Mamdouh show us an overlooked aspect of the global changes that have set contemporary immigration in motion.  And because they also show us the resilient efforts of these ordinary people to act together to control the forces that are shaping all our lives, they tell a story that is essentially hopeful and, indeed, the only story that in the end matters."
—Frances Fox Piven, Distinguished Professor, The Graduate Center, City University of New York, and author of Challenging Authority: How Ordinary People Change America

"Rinku Sen and Fekkak Mamdouh have brilliantly depicted the new stage in America's immigrant saga. They explore the shadowy corners of our modern global economy, the courageous battle for survival of low-wage migrant laborers, and the furious rise of anti-immigrant feeling here and in Europe. By organizing to improve their working conditions, they remind us, those immigrants are changing our nation for the better."
—Juan Gonzalez, New York Daily News columnist, author of Harvest of Empire: A History of Latinos in America, and cohost of Democracy Now