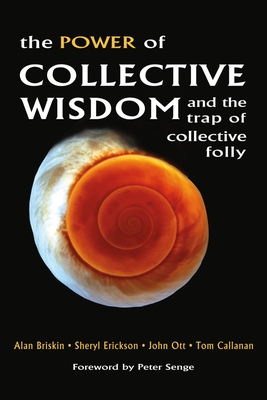 The Power of Collective Wisdom
And the Trap of Collective Folly
Paperback

* Individual store prices may vary.
Description
Based on nine years of research, The Power of Collective Wisdom shows how we can reliably tap into the extraordinary cocreative potential that exists whenever human beings gather together. Stories and historical examples illustrate how collective wisdom has emerged in a range of cultures, settings, and traditions, and the authors offer a set of practices to help readers realize the key lessons of the book. Equally important, they describe how to recognize the pitfalls of polarization or false agreement that lead to collective folly. Ultimately, this book emerges from a deep conviction that we all have a stake in each other and that what binds us together can be greater than what drives us apart.
Praise For The Power of Collective Wisdom: And the Trap of Collective Folly…
"An extraordinary book filled with powerful insights, evocative stories, and yes, collective wisdom! Beyond the Knowledge Revolution lies the Wisdom Revolution—and this book points the way."
—William Ury, coauthor of Getting to Yes; author of The Third Side: Why We Fight and How We Can Stop; and cofounder, Harvard Law School's Program on Negotiation

"This is an exceptional work challenging leaders to question their assumptions about how to achieve organizational excellence and providing a new narrative for leading with an eye toward collective wisdom. I love this book's message that we are all needed and that each of us has a reason to invest in one another."
—Carol Pearson, PhD, Executive Vice President and Provost, Pacifica Graduate Institute, and author of The Hero Within

"What I find especially useful about this book is that along with its creativity in search of wisdom is its inclusion of humanities' destructive inclinations, what the authors call collective folly. Decision makers and leaders will find this book a necessary stop in any search for wisdom."
—Arthur D. Colman, MD, author of Up from Scapegoating; Senior Fellow, James MacGregor Burns Academy of Leadership; and Clinical Professor, UC San Francisco Medical Center, San Francisco

"The Power of Collective Wisdom is down to earth, extremely practical, and rich with wisdom—a rare combination. It shows how collaboration is possible and necessary for those who care deeply about the outcome of their collective efforts. The book is remarkably easy to read but also reaches a depth of thought that is engaging and profound."
—Jan Boller, PhD, RN, Associate Professor and Director of Nursing Leadership Programs, College of Graduate Nursing, Western University of Health Sciences, and coauthor of Daily Miracles

"The most significant challenges of our time—social, economic, and environmental—are calling for leaders to understand, trust, and draw upon relational and cocreative capacities. This inspiring and practical book points the way. Not only have authors Briskin, Erikson, Ott, and Callanan written about collective wisdom, they have created it."
—Diana Whitney, PhD, author of The Power of Appreciative Inquiry

"In a time when expressions like 'wisdom of the crowd' can be shorthand for quick, uninformed group decision making, The Power of Collective Wisdom gives the world a new vocabulary to distinguish the various states and stages of wisdom. Finally, a book that explains what collective wisdom is and how to harness this wisdom if we hope to survive as a species!"
—Peter Coughlan, Partner and Coleader of Transformation Practice, IDEO
Berrett-Koehler Publishers, 9781576754450, 264pp.
Publication Date: October 5, 2009
About the Author
Alan Briskin is author of the award-winning book The Stirring of Soul in the Workplace and coauthor of Daily Miracles, which earned the American Journal of Nursing's Book of the Year award in the category of Public Interest and Creative Works. He is coauthor of Bringing Your Soul to Work: An Everyday Practice. Alan is a pioneer in the field of organizational learning and cofounder of the Collective Wisdom Initiative.
His work with groups and collectives extends back to the early 1970s, when he was part of an international community in Israel founded on the principles of the communal kibbutz. As an educator, he contributed to the design of schools based on experiential learning and was the director of education for the Vermont group home that became the model for deinstitutionalization of confined youth. His interest in alternative educational settings continued for over ten years when he was the principal consultant to the George Lucas Educational Foundation.
John Ott has designed and led successful collective change efforts for almost thirty years. He has worked with cities, counties, and large human services systems, designing and leading participatory budget processes to resolve gaping deficits. He designed and led the initial community change processes at the heart of Smart Start, a statewide initiative in North Carolina designed to ensure that every child begins kindergarten healthy and ready to succeed.
At the core of his work is a commitment to help diverse groups of people, often who have profound and contentious disagreements, learn how to create spaces of collective discernment and right action.
Sheryl Erickson has been principal investigator for the Collective Wisdom Initiative since 2000, seeking to articulate a field of study and practice now identified as that of collective wisdom.
Tom Callanan is a senior advisor and former program officer at the Fetzer Institute, where he helped to cofound the Collective Wisdom Initiative (CWI) in 2000. During his time as program officer, CWI informed the projects in his port- folio with the notion that it's possible to convene groups to create greater impact than could be accomplished by anyone alone. Through his work with the institute, Tom has helped to establish a number of internationally recognized initiatives, including the following:
We Speak as One: Twelve Nobel Laureates Share Their Vision for Peace: The result of a three-year project that engaged peacemakers in developing a unified moral and spiritual voice. The laureates have since issued a global call to action based on this project. See the book and visit www .peacejam.org.