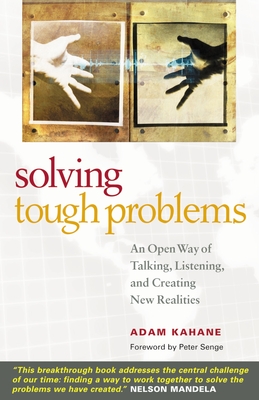 Solving Tough Problems (Paperback)
An Open Way of Talking, Listening, and Creating New Realities
Berrett-Koehler Publishers, 9781576754641, 168pp.
Publication Date: July 2, 2007
* Individual store prices may vary.
Description
Adam Kahane has worked on some of the toughest problems in the world—in organizations and in societies—from South Africa during its transition away from apartheid, to Colombia during the civil war, Argentina during the collapse, Guatemala after the genocide, Israel-Palestine, Northern Ireland, Cyprus, and the Basque Country. Through these experiences, he has learned how to create environments that enable creative new ideas and solutions to emerge and be implemented even in the most challenging contexts. Here Kahane tells his stories and distills from them an approach that all of us can use to solve our own toughest problems.
About the Author
Adam Kahane is a leading designer and facilitator of processes through which business, government, and civil society leaders can together solve their toughest problems. He has worked in more than fifty countries, in every part of the world. He is a founding partner of Reos Partners and of Generon Consulting.
Praise For Solving Tough Problems: An Open Way of Talking, Listening, and Creating New Realities…
"Many people have written about the healing power of dialogue. None, however, has put that power to the test under more extreme conditions with greater success than Adam Kahane. Informative, inspiring, and beautifully written. Highly recommended."
—David Korten, President of the People-Centered Development Forum, and author of When Corporations Rule the World

"This generative dialogue approach offers real opportunities for governments to engage with stakeholders to build trust and create exciting new resolutions to multi-faceted social and governance challenges."
—Clare Beckton, Assistant Deputy Attorney General of Canada

"Adam Kahane's book invites us to dare to move back into that sacred space of silence: a space where we listen and hear with our hearts, and not only with our heads. The stories he tells celebrate the amazing transformation that takes place when we have the courage to be vulnerable and speak openly and honestly—where passion is not used to defend an ideology or position, but is directed at enhancing a shared commitment for a common purpose. This is a book that needs to be read now."
—Njongonkulu Ndungane, Anglican Archbishop of Cape Town

"Adam Kahane presents a very strong case for how authentic dialogue can change the world. A fascinating mix of both large ideas and practical details, winnowed from decades of experiences in many countries and institutions around the world. A definitive work on a transformational social innovation."
—Nicanor Perlas, recipient of the Right Livelihood Award (Alternative Nobel Prize), and author of Shaping Globalization: Civil Society, Cultural Power, and Threefolding

"A brave and powerful book."
—Len Lindegren, former Global Strategy Leader, PricewaterhouseCoopers

"This fascinating book paints both seemingly unsolvable problems and a path towards sustainable solutions. A 'must read' for those who want to be part of creating such new realities."
—Jeroen Bordewijk, Senior Vice President, Unilever

"Being successful in business today means being able to solve complex challenges in a dynamic global environment, while building teams that can handle change creatively. This book shows us how to unlock the creativity of diverse teams to find solutions that work."
—Katherine Taylor, Director General, General Electric Medical Systems Mexico

"This book makes a strong case, from fascinating inside stories about the really tough problems in the world, that success depends on leaders learning to listen. Recommended reading for all decision takers dealing with tough problems."
—Arie de Geus, former Group Planning Coordinator, Royal Dutch/Shell, and author of The Living Company

"A book that needs to be read everywhere people have differences—in politics, the church, labor, the academy, and business. Kahane's message is wise, honest, and above all realistic. A gift for our time."
—W. Brian Arthur, Citibank Professor, Santa Fe Institute

"This is a profound and important book. It is special in both the simplicity and authenticity of the writing, and the value and far reaching impact of its message. It offers a ways of thinking and acting that can heal the woundedness of our organizations and our communities. I recommend it wholeheartedly."
—Peter Block, author of Flawless Consulting, Stewardship, The Empowered Manager, The Answer to How Is Yes, and Freedom and Accountability at Work

"Adam Kahane has written a useful and powerful book. It turns out that the rational, structured approach is just the beginning. Success occurs only when people deeply listen and talk with each other."
—Harrison Owen, author of Expanding Our Now, Tales from Open Space, and Open Space Technology

"Adam Kahane is one of those all too rare 'warriors for peace' who is willing to immerse himself totally into our world's most intractable conflicts. In story after story, we witness the remarkable transformation of isolated individuals—separate, hostile, closed to one another, with fixed positions—into a single, complex, organism with a common goal, fresh thinking, and, most of all, hope. Kahane makes it crystal clear that deep talking and listening do not come easily, but when they do, the world moves."
—Barry Oshry, author of Seeing Systems: Unlocking the Mysteries of Organizational Life and Leading Systems: Lessons from the Power Lab

"Kahane puts into words wisdom glimpsed from the cauldron of real world experience. He renews our hope that it is possible to map a better future and sustains our faith that the heart can be a guide."
—Alan Briskin, author of The Stirring of Soul in the Workplace

"This book is a gem—in a class of its own. It explains simply and eloquently the essence of the process of non-violent, voluntary transformational change in social systems that seem stuck in hopelessness."
—Arun Maira, Chairman, The Boston Consulting Group India

"This book is a victory for those of us who believe that even the most intractable of our societal problems can be successfully addressed through the efforts of people of good will. It inspires us with real stories of unlikely groups of people separated by gulfs of fear, history, rage and violence, sitting down and bridging chasms of mistrust through the simple human acts of speaking and listening from the heart. I recommend it highly."
—Robert Gass, Rockwood Leadership Program; former President, ARC International

"This book includes the story of the Visión Guatemala team, in which a group of us, who in the ordinary course of events would never have met or worked together, had an unprecedented experience that opened up new horizons for us and for our country. Adam helped us cultivate our dreams and ideals, and gave us the energy and hope to act to renew our society."
—Raquel Zelaya, former Secretary of Peace, Guatemala

"I have facilitated dialogue and problem-solving in many of today's 'intractable' conflicts—Cyprus, the Caucasus, Kosovo, and Colombia, among others. This book offers valuable new approaches for working in these situations. It goes beyond dialogue, and offers ways of building on dialogue to create new realities."
—Diana Chigas, Conflict Management Group and Fletcher School of Law and Diplomacy

"Tough problems is an understatement. This book provides a road map for solving the intractable and the tragic. Companies facing extinction, communities on the brink, and countries in crisis—Kahane has used his tools in all these contexts, and serves them up admirably in this volume."
—Michel Gelobter, Executive Director, Redefining Progress

"This book offers us stories of profound transformation—and with a refreshing directness teaches us ways of talking and listening that can embrace the toughest problems. The packing of so much practical wisdom into such a small space creates a jewel of inspiration."
—Betty Sue Flowers, Director, Lyndon Baines Johnson Presidential Library

"Adam Kahane is one of those rare action-intellectuals who combines a deep theoretical understanding of social change and group process with actual experience in situations of conflict and turmoil, where people are desperate for solutions but unable to secure what they need. Adam brings the catalyst for change."
—James Garrison, President of State of the World Forum and author of America as Empire

"At the heart of many of our most intractable problems lies the belief that reflection and action are somehow separate. Solving Tough Problems goes a long way in healing this rift. In doing so it elegantly sets out a direction for us to follow if we are to shift radically our current destructive patterns of behavior."
—Zaid Hassan, Cultivation Unit, Pioneers of Change

"This is a book about miracles, not the kind of miracles produced by angels but the kind produced by people listening and talking to one another. When faced with tough, complex problems such conversations are likely to be more helpful than yet more 'objective' analyses."
—David Brooks, Founding President, Friends of the Earth Canada

"Adam Kahane pens his mind and heart in prose reminiscent of personal letters to an intelligent friend. His theme is simple and admirable: how to replace the power of violence with the power of listening-and-talking, of regenerative dialogue. His stories move me, unveiling, as no other book, how the informed and reflective heart is the essential compliment to rational, strategic thought."
—Peter Warshall, editor, Whole Earth, the magazine of the Whole Earth Catalog

"The world we live in requires that we all take responsibility for the good of the whole; our collective future depends on it. Adam Kahane has given us a lovely treatise on how that can happen individually and collectively through open minds and open hearts."
—Carolyn Lukensmeyer, President and Founder, AmericaSpeaks