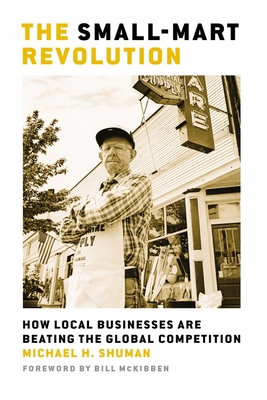 The Small-Mart Revolution (Paperback)
How Local Businesses Are Beating the Global Competition
Berrett-Koehler Publishers, 9781576754665, 312pp.
Publication Date: August 12, 2007
Other Editions of This Title:
Hardcover (7/6/2006)
* Individual store prices may vary.
Description
Bigger isn't always better. Contrary to popular belief, small, locally owned businesses often out-perform their "big box" and Fortune 500 competition—both in outright profitability and the value they bring to consumers, workers, and communities. Unlike mega-stores and multi-national chains like Wal-Mart, these small businesses stimulate the economy by buying supplies and services locally, adapt to (rather than fight against) higher local environmental and labor regulations, and stick around for many years, often many generations.

The Small-Mart Revolution details dozens of specific strategies small and home-based businesses are using to successfully out-compete the world's largest companies. And it shows how consumers, investors, policymakers, and organizers can revitalize their own communities by supporting local businesses.
About the Author
Michael Shuman, an attorney, economist, and writer, is Vice President for Enterprise Development for the Training & Development Corporation (TDC) of Bucksport, Maine. Since publication of his previous book, Going Local: Creating Self-Reliant Communities in the Global Age (Routledge, 2000), he has been considered one of the nation's fore- most experts on locally owned business.
After growing up in the suburbs in Long Island and St. Louis, Shuman entered Stanford University, where he received a bachelors' degree with distinction in international relations and economics in 1979 and a law degree in 1982. In 1980 he won First Prize in the Rabinowitch Essay Competition of the Bulletin of the Atomic Scientists on "How to Prevent Nuclear War."
Praise For The Small-Mart Revolution: How Local Businesses Are Beating the Global Competition…
This is a badly needed book.
—BILL MCKIBBEN, author of The End of Nature

The Small-Mart Revolution reveals why supporting small business makes good economic sense and how they offer the only real long- term solution for the health of our neighborhoods and our nation. It will touch your heart, while showing you how to better mind your wallet.
—DR. NANCY SNYDERMAN, Vice President for Consumer Education, Johnson & Johnson, and Associate Professor of Head and Neck Surgery, University of Pennsylvania

There are precious few good alternatives to the "Wal-Martization" of our communities. The Small-Mart Revolution not only provides an alternative analysis, it tells us how we can make it happen.
—ROBERT GREENWALD, director of the documentary "Wal-Mart: The High Cost of Low Price"

The Small-Mart Revolution is an essential resource for every local business owner, government official, and public interest citizen advocate. Michael Shuman makes a convincing case that the future belongs to the small and local. This is an authoritative, practical, and highly readable handbook on rebuilding local economies as
an alternative to corporate-led economic globalization by the leading guru of local economic development.
—DAVID C. KORTEN, author of When Corporations Rule the World and The Great Turning: From Empire to Earth Community

The Small-Mart Revolution provides the most important blueprint for economic development I've ever seen. It shows how communities can prosper by putting local constituents and businesses first. The book should be required reading for local elected officials and civil servants across America.
—LARRY AGRAN, Mayor of Irvine, California (2000–2004)

Some of us have embraced globalization without worrying overmuch about the consequences. Others of us are fighting pointless battles against progress, technology, and capitalism. Here, Michael Shuman presents a badly needed Third Way. He says that by strengthening our local businesses and communities we'll be creating a better capitalism and a better world. And he backs it up with logic, examples, statistics, and passion! This is the kind of book that could launch a whole new social-political movement.
—MARK SATIN, author of Radical Middle: The Politics We Need Now

Michael Shuman has done it again. He shows the power of grassroots economics—not as mere theory about a future world— but as real people, today, creating an equitable economy from the grassroots up. This book will revolutionize your thinking about "development." Do yourself and all of us a favor by reading it and then acting on it.
—KEVIN DANAHER, Co-Director, Global Exchange

The world is about to become a larger place again. Globalism is toast. Caught up in raptures of credit-fueled discount shopping, few Americans realize how profoundly our society is about to change. We are sleepwalking into a permanent global energy crisis that will compel us to live much more locally than we have for generations. We face a desperate need to reconstruct local networks of economic relations—and we should have begun this great task yesterday. This is an invaluable guide to how we might accomplish this.
—JAMES HOWARD KUNSTLER, author of The Long Emergency

As global markets explode, Michael Shuman offers a compelling alternative for growth towards a healthier civil society. Anyone interested in the consequences of globalization dominated by multinationals should read this book.
—MICHELE BARRY, Professor of Medicine and Global Health, Yale University