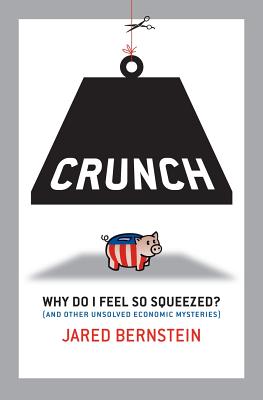 Crunch (Hardcover)
Why Do I Feel So Squeezed? (And Other Unsolved Economic Mysteries)
Berrett-Koehler Publishers, 9781576754771, 240pp.
Publication Date: April 14, 2008
Other Editions of This Title:
Digital Audiobook (4/13/2008)
Paperback (7/1/2009)
* Individual store prices may vary.
Description
Is Social Security really going bust, and what does that mean to me? If I hire an immigrant, am I hurting a native-born worker? Why does the stock market go up when employment declines? Should I give that homeless guy a buck? What's a "living wage"? How much can presidents really affect economic outcomes? What does the Federal Reserve Bank really do? And when the pundits say the economy's doing so well, why do I still feel so squeezed?

If you'd like some straight answers, premier economist Jared Bernstein is here to help. In Crunch he responds to dozens of questions he has fielded from working Americans, questions that directly relate to the bottom-line, dollars-and-cents concerns of real people. Chances are if there's a stumper you've always wanted to ask an economist, it's solved in this book.

Bernstein is fed up with "Darth Vaders with PhDs" who use their supposed expertise to intimidate average citizens and turn economics into a tool for the rich and powerful. In the pages of Crunch, Bernstein lays bare the dark secret of economics: it's not an objective scientific discipline. It's a set of decisions about the best way to organize our society to produce and distribute resources and opportunities. And we all can, and must, participate in these decisions. "America is a democracy," he writes. "And in a democracy all of us, not just the elites and their scholarly shock troops, get to weigh in on biggies like this."

Our economy will be only as fair as we can make it. In this lively and irreverent tour through everyday economic mysteries, Bernstein helps us decode economic "analysis," navigate through murky ethical quandaries, and make sound economic decisions that reflect our deepest aspirations for ourselves, our families, and our country.
About the Author
Jared Bernstein is a senior economist and director of the Living Standards Program at the Economic Policy Institute in Washington, DC. He is the coauthor of the last seven editions of The State of Working America as well as The Benefits of Full Employment: When Markets Work for People. He writes a regular column for the American Prospect online, and his op-eds have appeared in the New York Times and the Washington Post.
Praise For Crunch: Why Do I Feel So Squeezed? (And Other Unsolved Economic Mysteries)…
"Jared Bernstein—the rare economist who writes lucid English—has a gift for making difficult topics easy to grasp without dumbing them down. Bernstein's latest superbly timed book, Crunch, is a must-read guide to the economy's current slide and its effect on us all."
—Robert Kuttner, Founding Co-Editor, The American Prospect

"Jared Bernstein's new book is a must-read for everyone who cares about restoring economic fairness in an America with the greatest income inequality since the Great Depression.  Drawing on everyday examples, Crunch is an accessible explanation of economic principles presented with equal parts of insight, humor, and stimulation.  In the process, Bernstein explains how we got to where we are, what to do to fix it, and why fighting for a fair society is so important"
—Senator John Edwards

"The sprightliest writer working in the dismal science since the heyday of John Kenneth Galbraith."
—Harold Meyerson, Washington Post columnist

"Jared Bernstein has written a fun, user-friendly primer that tells you everything you need to know about the economy. I liked it, you'll like it, and if you read it you can stop feeling guilty that you forgot everything you learned in that freshman econ course."
—Jonathan Chait, Senior Editor, The New Republic, and author of The Big Con: The True Story of How Washington Got Hoodwinked and Hijacked by Crackpot Economics

"Crunch is a dangerous book.  Anyone who reads it will be armed with new ideas to start kicking back at the false economic theories that have ensnared this country.  The book is witty, irreverent, and easy to read, but don't let that fool you.  It's powerful."
—Elizabeth Warren, Leo Gottlieb Professor of Law, Harvard Law School and coauthor of All Your Worth: The Ultimate Lifetime Money Plan