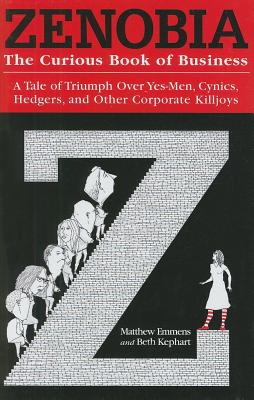 Zenobia
The Curious Book of Business
Hardcover

* Individual store prices may vary.
Description
Zenobia is a former industry giant bedeviled by paralyzing hierarchies, grossly inadequate communications, and distrust. It is a broken place, a fortress doomed to collapse upon itself.

Enter Moira, a young woman responding to a cryptic help wanted ad that asks her to report to room 133A – but there are no directions, no sign of the room, and nobody seems inclined to help her find it. As she moves through the Zenobian maze, Moira makes some surprising discoveries about the power of teamwork and the qualities that define true leaders. Her story is interwoven with that of a long-time Zenobia employee named Gallagher, who watches and comments as Moira tries to find the ever-elusive room 133A.

Zenobia reminds us that imagination is one of the most powerful, and most overlooked, elements of business success. Like Moira, those who succeed see what is not yet there, keep faith in their vision, take risks to achieve it, and inspire others to join them. This unusual book will move readers to take a fresh and fearless look at their own organizations and to remember that leadership is not determined by title or position. Rather, as the want ad Moira answers puts it, "Creative persistence a prerequisite. A desire for the extraordinary an absolute must."
Berrett-Koehler Publishers, 9781576754788, 120pp.
Publication Date: January 10, 2008
About the Author
Matthew Emmens began his career in international pharmaceuticals with Merck & Co., Inc., in 1974. There he held a wide range of sales, marketing, and administrative positions before volunteering in 1992 to help establish Astra Merck, the joint venture between Merck and Astra AB of Sweden. He later became president and chief executive officer. In 1999 he joined Merck KGaA and established EMD Pharmaceuticals, the company's U.S. prescription pharmaceutical business. Subsequently, he was promoted to president of the global prescription business and lived in Germany. In 2003, he joined Shire Pharmaceuticals as chief executive officer and member of the board. As CEO of Shire, Emmens has engineered an extraordinary revitalization, transforming Shire into one of the top specialty pharmaceutical companies in the world in just a few years' time.
Beth Kephart is the award-winning author of five memoirs and a partner in Fusion Communications, a company that collaborates with leading U.S. companies on the creation of special publications. She was a 1997 Pennsylvania Council on the Arts fiction grant winner, a 1998 National Book Award finalist, a 2000 winner of a National Endowment for the Arts grant, a winner of a 2005 Pew Fellowship in the Arts grant, and a winner of the 2005 Speakeasy Poetry Prize. Her work has appeared in the New York Times, Washington Post, Chicago Tribune, Wall Street Journal Europe, Salon.com, and elsewhere. Her sixth book, Flow: The Life and Times of Philadelphia's Schuylkill River, was pubished in the summer of 2007, and Undercover, her first novel for young adults, was recently released. Two more young adult novels are forthcoming. Please contact Beth Kephart through her blog, http://beth- kephart.blogspot.com.
or
Not Currently Available for Direct Purchase