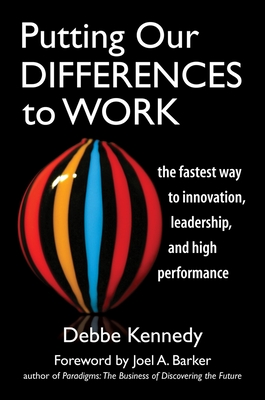 Putting Our Differences to Work (Hardcover)
The Fastest Way to Innovation, Leadership and High Performance
Berrett-Koehler Publishers, 9781576754993, 224pp.
Publication Date: June 9, 2008
* Individual store prices may vary.
Description
Putting our differences to work means creating an environment where people, naturally unique and different—diverse by nature and experience—can work more effectively in ways that drive new levels of creativity, innovation, problem solving, leadership, and performance in the marketplaces, workplaces, and communities of the world. Debbe Kennedy shows how to make all the dimensions of difference—such as thinking styles, perspectives, experiences, work habits, and management styles, as well as more traditional diversity considerations like gender, race, ethnicity, physical abilities, sexual orientation, and age—tremendous sources of strength.
Kennedy draws on the latest research and a wealth of real-world examples to offer compelling evidence showing exactly how putting our differences to work accelerates innovation and contribution. She identifies five distinctive qualities of leadership that leaders must add to their portfolio of skills to make differences an engine of success. And she provides a detailed six-stage process for making the most of differences in the workforce, combining first-person best-practice stories and strategic with tactical ideas to help you put each step into action.
Kennedy has written both a personal and a practical guide that changes the prevailing rules of how to think, behave, and operate as a leader, connecting four diverse elements of business and society that have traditionally been siloed: innovation, leadership, diversity, and inclusion. She and futurist Joel Barker also look at how new discoveries, including Web 2.0 technologies, can draw us closer together in previously unimagined ways.
About the Author
Debbe Kennedy is the founder and president of Leadership Solutions Companies, an award-winning women-owned enterprise specializing in custom leadership, organizational, and virtual-communication solutions and the Global Dialogue Center. She is known for her pioneering contributions in people-focused leadership-employee communications using Web 2.0 technologies and other social media. Formerly, she had a distinguished leadership career with IBM. She is the author of Breakthrough! The Problem-Solving Advantage: Everything You Need to Start a Solution Revolution.
Praise For Putting Our Differences to Work: The Fastest Way to Innovation, Leadership and High Performance…
"Debbe Kennedy teaches us how diversity accelerates innovation to everyone's advantage. This is a win-win-win book in which you and your people win, your organization wins, and the world wins."
—Joel A. Barker, from the foreword

"Personal, reflective, insightful and inspirational. Full of great ideas and a very powerful story that shows how we need to redefine leadership and diversity in order to help make the world a better place. Needs to be widely read – urgently!"
—Dr. Bruce Lloyd, Emeritus Professor of Strategic Management, London South Bank University

"The dangers of 'groupthink' are painfully apparent across our world. That's why diversity, broadly understood, is so essential to innovation and progress – as Debbe Kennedy reminds us in this pragmatic and wise guide for leaders."—Mike Wing, Vice President, Strategic Communications, IBM

"Rarely has there been a more relevant, more needed guidebook for leaders of the future than Putting Our Differences to Work. Debbe Kennedy has illuminated diversity, innovation, and leadership in a way that will help leaders across the sectors to redefine the future in our times of massive change."
—Frances Hesselbein, Chairman and Founding President, Leader to Leader Institute, and former CEO, Girl Scouts of the USA

"The power of Debbe Kennedy's storytelling helps us all see our own accomplishments in a new light while encouraging us to take our leadership to a new level. The six steps she offers provide a road map for leaders and organizations on how to effectively put differences to work." —Emily J. Duncan, former Vice President, Culture and Diversity, Hewlett-Packard "Leaders must find new sources of growth more than ever today. After questioning what leadership means while reading Putting Our Differences to Work, I found myself focused on one thing: I, the leader, must first harness our people's rich and diverse experiences, cultures, and perspectives to attract growth."
—Lane A. Michel, Executive Vice President, Quaero Corporation