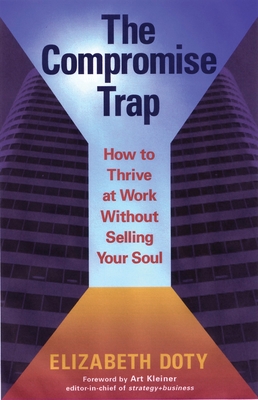 The Compromise Trap (Paperback)
How to Thrive at Work Without Selling Your Soul
Berrett-Koehler Publishers, 9781576755761, 312pp.
Publication Date: November 1, 2009
* Individual store prices may vary.
Description
Healthy compromise is necessary for accomplishing any meaningful goal with other people. But when your job presses you to betray your word, your principles, or other important commitments, it becomes profoundly unhealthy and deeply stressful. And it can happen even while working for an organization or leader you otherwise respect and admire. Elizabeth Doty offers the antidote: redefining the game. When you feel pressured to play by rules that undermine your integrity, Doty shows how you can tap into six personal foundations that will allow you to stay true to your deepest values and aspirations. Through more than fifty vivid firsthand accounts of compromise and courage in business, she provides guidance for anyone at any organizational level who wants to act with greater clarity, strength, and purpose, as well as for senior leaders striving to lead organizations that allow people to remain true to themselves. The Compromise Trap details a strategy that enables you to remain a positive force--for yourself and whatever you define as the greater good--no matter how difficult the circumstances.
About the Author
Elizabeth Doty has spent thirty years working in and around large organizations, in three different careers. She began in the hospitality industry, where she served as a manager for more than eleven years, mostly in four-star hotels. After earning her MBA from Harvard in 1991, she joined one of the top ten U.S. reengineering firms, working in the trenches with client teams in a variety of industries to achieve radical improvements in quality, delivery time, and profitability. Finally, in 1994 she launched her own consulting firm, focused on diagnosing breakdowns and dysfunctions in large, complex organizations and helping such clients as Intuit, Hewlett- Packard, and Archstone-Smith capitalize on hidden opportunities to improve performance. Based on these varied experiences, Elizabeth is intimately familiar with the inspirations, dilemmas, and absurdities of organizational life. Fundamentally concerned with the interlocking challenges of individual and organizational integrity in their broadest sense, Elizabeth brings a background in systems thinking, organizational learning, process improvement, and change, as well as more interpersonal and individual disciplines such as conflict management, leadership effectiveness, and personal engagement. Her particular passion is for untangling the thorny, complex problems that hide goldmines of opportunity, such as the systematic obstacles to delivering a desired customer experience or the real reasons for persistent field-home office conflict. She is even happier when untangling these problems involves listening to people's stories about their work. A chronic interviewer, Elizabeth has a deep curiosity about the dilemmas, goals, and challenges of people in every role and organizational level. Since 1990 she has spoken with more than four hundred people about their work, resulting in several thousand index cards covered with tiny print, multiple case studies for leading U.S. business schools, and the opportunity to contribute to William Ury's research for his recent book, The Power of a Positive No: How to Say No and Still Get to Yes (New York: Bantam, 2007). Hearing all these perspectives has permanently handicapped Elizabeth's ability to judge people as good or bad but has left her infinitely optimistic about the opportunity for change. She is currently focused on encouraging individuals to engage more actively and constructively in the systems of which they are a part, as a critical element in their own well-being, for better organizational performance, and for greater alignment of organizational actions with the needs of the larger world. She is well aware that the only way for anyone to sustain such a focus, of course, is with a sufficiently large dose of humor and humility about the likelihood of ever fully achieving it. Elizabeth received her BA in economics from the University of California at Berkeley in 1985 and earned her MBA with honors from Harvard in 1991. She has presented at the Systems Thinking in Action conference, Business Ethics Network, Story in Organizations, and the North American Simulation and Gaming Association and has been published in Strategy + Business magazine, the Pfeiffer Annual: Human Resources Management, and Seminars for Nurse Managers. She speaks on compromise, professional quests, saying no, and organizational integrity. She currently lives in Albany, California.