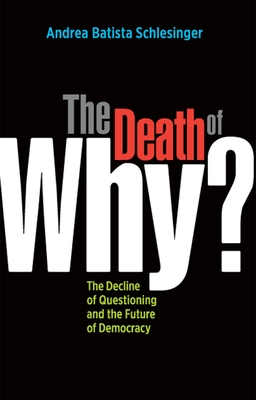 The Death of Why? (Paperback)
The Decline of Questioning and the Future of Democracy
Berrett-Koehler Publishers, 9781576755853, 264pp.
Publication Date: June 26, 2009
* Individual store prices may vary.
Description
Obsessed with answers, we have lost sight of the power and value of questions. Debates over globalization, climate change, health care, and poverty will not be "solved" with simple answers, but that's what Americans are being trained to expect. Andrea Batista Schlesinger argues that we're besieged by cultural forces that urge us to avoid critical thinking and independent analysis. The media reduces politics to a spectator sport, standardized tests teach students to fill in the dots instead of opening their minds, and even the Internet promotes habits that discourage looking deeper.
 
But the situation isn't hopeless. Schlesinger profiles individuals and institutions renewing the practice of inquiry—particularly in America's youth—at a time when our society demands such activity from us all. Our resilience will depend on our ability to struggle with what we don't know, to live and think outside comfortable bubbles of sameness, and, ultimately, to ask questions.
About the Author
Since 2002, Andrea Batista Schlesinger has applied her background in public policy, politics, and communications to lead the effort to turn the Drum Major Institute, originally founded by an advisor to Rev. Dr. Martin Luther King Jr. during the civil rights movement, into a progressive policy institute with national impact. During Andrea's tenure as executive director, DMI has released several important policy papers to national audiences; created its Marketplace of Ideas series, which highlights successful progressive policies from across the country; launched two policy blogs that reach several thousand readers each day; and launched a national program to foster careers in policy for college students from underrepresented communities.
In 2009, Andrea took a leave of absence from DMI to serve as a senior policy advisor to the re-election campaign of New York City mayor Michael R. Bloomberg.
Andrea studied public policy at the University of Chicago. Before joining DMI, she directed a national Pew Charitable Trusts campaign to engage college students in discussion about the future of Social Security and served as the education advisor to Bronx borough president and mayoral candidate Fernando Ferrer. She has been profiled in the New York Tmes, The New Yorker, and Latina magazine, and in Hear Us Now, an award-winning documentary about her tenure as the student member of New York City's Board of Education.
253254 the death of "why?"
In media outlets from National Public Radio to the Huffington Post, Andrea is turned to for her forward-thinking analysis on America's greatest challenges. She has appeared on television shows such as CNN's Lou Dobbs Tonight, and her writing has appeared in various publications, including The Nation, Newsday, the Chicago Sun-Times, the Mississippi Sun Herald, the New York Daily News, Alternet.com, TomPaine.com, the New York Sun, Colorlines magazine, the Chief-Leader, and City Limits magazine.
Andrea was named a Forty Under 40 Rising Star by Crain's New York Business. She serves on the editorial board of The Nation. She grew up in Brooklyn and lives in Queens.
Praise For The Death of Why?: The Decline of Questioning and the Future of Democracy…
"From her start in politics as a teenager Andrea Batista Schlesinger has asked the important questions. Now she asks her most important: are we teaching young people to value inquiry, and if not, what hope can we have for the future of democracy?"
—Katrina vanden Heuvel, Publisher, The Nation
"The road to wisdom is asking `why?' Andrea Batista Schlesinger has been asking `why?' and supplying her own bright and thoughtful answers for long enough that some of us suggested she write a book. It's fortunate for all of us that her answer was `why not!'"
—Governor Mario Cuomo

"Andrea is a passionate supporter of open inquiry, discussion, and debate in our schools on matters of public concern. It is difficult to think of any other goal as important to the preservation and improvement of our free society."
—Charles N. Quigley, Executive Director, Center for Civic Education

"The Death of Why? makes the case that we cannot create social change without a culture of questioning. We should pay close attention to this brilliant contribution."
—Deepak Bhargava, Executive Director, Center for Community Change

"She asks the right questions at a time when we seem more eager for answers that we don't understand or care about."
—Deborah Meier, Senior Scholar, New York University, author of In Schools We Trust and The Power of Their Ideas, and founder of innovative New York and Boston area public schools

or
Not Currently Available for Direct Purchase