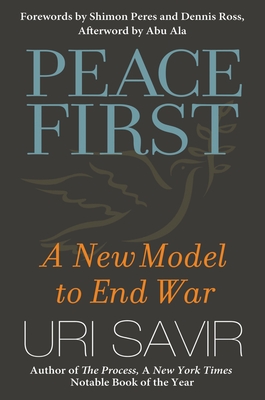 Peace First
A New Model to End War
Hardcover

* Individual store prices may vary.
Other Editions of This Title:
Compact Disc (10/7/2008)
Paperback, Large Print, Large Print (1/1/2009)
Description
Uri Savir has an ambitious, indispensable goal: to bring peacemaking into the 21st century. "Little in today's world," writes Savir, "is more progressive than modern warfare. Yet little is more archaic than peacemaking." We remain trapped in a centuries-old mindset, with leaders bargaining warily for concessions and signing treaties that collapse because no one on the ground has any real stake in them.

Drawing on his experiences negotiating the Oslo Peace Accords as well as on trenchant examples from Ethiopia, Eritrea, Rwanda, Sierra Leone, Afghanistan, India, Pakistan, Northern Ireland, and the former Yugoslavia, Savir argues that an enduring peace is built from the bottom up, not from the top down. He describes a new model based on establishing and nurturing mutually beneficial forms of cooperation beginning on the local level, city to city and organization to organization.

This process of "glocalization"—involving local actors in global issues—is the first step toward constructing a peace ecology: a comprehensive transnational culture dedicated to breaking down the psychological and social barriers between former enemies. These efforts are furthered through the establishment of joint ventures that give each side a tangible stake in maintaining peace. Diplomacy still has a role, but it must reject maneuvering for gain and instead emphasize the advantages both sides will gain with the cultivation of lasting peace.

Throughout Savir provides concrete examples of how these concepts have been put into practice. And he ends with a detailed vision of how this model could bring an enduring peace in one of the world's most war-torn areas: the Mediterranean Basin. Peace First offers a pragmatic yet revolutionary new approach that promises to end our most intractable conflicts.


Praise For Peace First: A New Model to End War…
"Through Peace First Uri Savir proves that he is one of the chief stewards of the temple of peace. He continues to fulfill his duties with great perseverance, and he dedicates his intellectual life to finding solutions to conflict and unearthing the origins of the idea that tyrannizes him—peace."
—Abu Ala (Ahmed Qurei), former Prime Minister of the Palestinian Authority

"When Uri Savir says it is time to modernize our approach to peace, he is surely correct. One thing is for sure: leaders trying to resolve historic conflicts need help from within and from without to marshal the wherewithal to confront both history and mythology. Uri Savir is certainly doing his part to help."
—Ambassador Dennis Ross, Ziegler Distinguished Fellow, The Washington Institute for Near East Policy and author of Statecraft, and How to Restore America's Standing in the World

"In this book, Savir outlines a radical and innovative approach to the peace process in an effort to change the paradigm and move peace forward. In an era where new ideas seem in short supply, Savir soldiers on, with creativity, integrity, and a never-ending commitment to bring much-needed peace to the region."
—Dr. Marwan Muasher, Senior Vice President, External Affairs, World Bank and author of The Arab Center: The Promise of Moderation

"This is a wise and compelling reassessment of approaches to negotiating the resolution of conflicts in an ever-more-complex international environment. Uri Savir's emphasis on combining the global with the local makes a unique contribution to the challenge of peacemaking in the Middle East and beyond."
—Martin Indyk, Director, Saban Center for Middle East Policy, The Brookings Institution, and former U. S. Ambassador to Israel

"A thoughtful examination of the challenge of peacemaking in a world where shifting parameters —the rise of non-state actors, the increase in international terrorism, the advance of military technology, the growing rift between the Western and Islamic societies, the rise of extremism —have created a new strategic paradigm. A serious and insightful case for a new approach to conflict resolution,"
—Javier Solana, High Representative for the Common Foreign and Security Policy, European Union

"Israel's pre-eminent diplomat, Ambassador Uri Savir, has authored a highly innovative perspective on how international state-to-state diplomacy has to be supplemented by a people-to-people approach. The grand master of Middle Eastpeace negotiations has again proved his groundbreaking diplomatic stature through a city-to-city angle in our age of urbanization."
—Terje Rød-Larsen, President, International Peace Institute

"Drawing from his rich personal experience, Savir has the courage and the vision to explain why narrow, conventional approaches to security are bound to prove insufficient in the 21st century. I particularly welcome Savir's proposal for a Pax Mediterraneo that embraces everybody in the region, without exception—a task that seems to me more urgent than ever."
—Miguel Moratinos, Minister of Foreign Affairs and Cooperation, Spain

"In Essaouira-Mogador, my tiny hometown, I was educated by my rabbis and teachers to first take care of my neighbors. Today my neighbor is Palestinian... By fighting for a just and decent peace between Palestine and Israel I am fighting for my own heritage... On this frustrating but illuminating road to peace Uri was one of the very few colleagues and dear friends who paved the way."
—Andre Azoulay, Counselor to the King of Morocco

"A timely and valuable book... Uri gives us a rich menu of new and creative models for peacemaking. A must read for scholars and negotiators involved in vital issues of peacemaking."
—Toni G. Verstandig, Senior Policy Advisor, Center for Middle East Peace and Economic Cooperation, and Executive Director, Aspen Institute's Middle East Strategy Group

"Uri Savir's book Peace First is a creative and courageous new model for peace- making in our world. The book has depth and compelling analysis —a must-read for anyone concerned with bringing peace to the countless war-torn regions across the globe."
—Quincy Jones, music impresario and founder of the Quincy Jones Listen Up Foundation

"Uri Savir's commitment and expert knowledge can never be questioned. In Peace First he has discovered the clearest and most possible path toward peace. It should be required reading for every diplomat."
—Kathleen Turner, actress

"Peace is the process that begins in the individual heart. It is a need to live with- out grief, despair, or expectation. A desire to give with release. It is the ecstasy of tranquility."
—Sharon Stone, actress

Berrett-Koehler Publishers, 9781576755969, 256pp.
Publication Date: August 28, 2008
About the Author
Uri Savir, one of Israel's most senior diplomats, was Israel's chief negotiator during the Oslo Accords between Israel and the Palestine Liberation Organization, between 1993 and 1996. In his role as director-general of the Israeli Foreign Ministry, he also negotiated with Jordan, with Syria, and in the multinational peace tracks in the Middle East. Prior to this, Savir was Israel's consul-general to New York and held various diplomatic positions in North America.