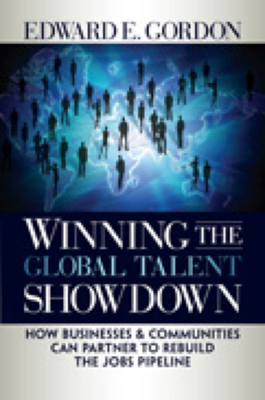 Winning the Global Talent Showdown
How Businesses and Communities Can Partner to Rebuild the Jobs Pipeline
Hardcover

* Individual store prices may vary.
Other Editions of This Title:
Paperback (4/6/2009)
Description
A longtime trauma worker, Laura van Dernoot Lipsky offers a deep and empathetic survey of the often-unrecognized toll taken on those working to make the world a better place. We may feel tired, cynical, or numb or like we can never do enough. These, and other symptoms, affect us individually and collectively, sapping the energy and effectiveness we so desperately need if we are to benefit humankind, other living things, and the planet itself. In Trauma Stewardship, we are called to meet these challenges in an intentional way—to keep from becoming overwhelmed by developing a quality of mindful presence. Joining the wisdom of ancient cultural traditions with modern psychological research, Lipsky offers a variety of simple and profound practices that will allow us to remake ourselves—and ultimately the world.
Praise For Winning the Global Talent Showdown: How Businesses and Communities Can Partner to Rebuild the Jobs Pipeline…
"Taking on society's biggest challenges can make self-care seem trivial, even self-indulgent. We willingly subordinate our own needs to those of the work and the world at large, often feeling gratitude for the opportunity to do so, then wonder why we're so exhausted. Gently and insightfully, Laura nudges us toward the proverbial balance so that in the end, we can both work and live more fully."
—Chelsea Sexton, alternative fuel vehicle advocate and cofounder of Lightning Rod Foundation and Plug In America, featured in the film Who Killed the Electric Car?

"I saw a lot as a cop in San Diego and as chief of the Seattle Police Department. Looking back on my thirty-four years in policing, I only wish that Trauma Stewardship had been in my car or on my desk that whole time. Whether it's bureaucratic sources of distress or the steady diet of traumatic situations encountered on the streets, Laura's extraordinary book offers a lucid, insightful, often humorous, and always practical guide to the professional who has no choice but to deal with trauma. I can't recommend it highly enough."
—Norm Stamper, PhD, Seattle Chief of Police (Ret.) and author of Breaking Rank: A Top Cop's Exposé of the Dark Side of American Policing

"This impressive book helps one to recognize the effects of trauma exposure everywhere: in ourselves, our organizations, and our society. Readers will be guided (gently) along an individual path of exploration, growth, hope, and recovery. I will be recommending it to everyone I work with."
—Cynthia Garrett, MD, Vancouver Native Health Society Medical Clinic and New Westminster Mental Health Centre

Berrett-Koehler Publishers, 9781576756164, 264pp.
Publication Date: April 6, 2009
About the Author
Edward Gordon is founder and president of Imperial Consulting Corporation. Imperial's clients include Microsoft; IBM; Walgreens; Marriott; the U.S. Departments of Labor, Education, and Energy; the U.S. and local Chambers of Commerce; the National Association of Workforce Development Professionals; and many others. He is the author or coauthor of over 16 books, including The 2010 Meltdown, Skill Wars, and FutureWork.
or
Not Currently Available for Direct Purchase