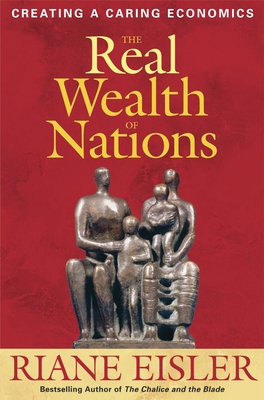 The Real Wealth of Nations (Paperback)
Creating A Caring Economics
Berrett-Koehler Publishers, 9781576756294, 336pp.
Publication Date: November 3, 2008
Other Editions of This Title:
Hardcover (4/8/2007)
* Individual store prices may vary.
Description
The greatest problems of our time-- poverty, inequality, war, terrorism, and environ
mental degradation-- can be traced to flawed economic systems that fail to value and
support the most essential human work: caring for people and the planet. Renowned
social scientist Riane Eisler introduces a bold reformulation: a "caring economics" that transcends traditional categories like "capitalist" and "socialist" and offers enormous economic and social benefits. She provides a blueprint for putting this more humane and effective economic system to work.
About the Author
Riane Eisler is president of the Center for Partnership Studies and author of The Chalice and the Blade, Sacred Pleasure, Tomorrow's Children, and The Power of Partnership. Dr. Eisler is a pioneer in the study of complex systems and the recipient of many honors, including the Humanist Pioneer Award and membership in the World Commission on Global Consciousness and Spirituality.
Praise For The Real Wealth of Nations: Creating A Caring Economics…
"The Real Wealth of Nations gives us a template for the better world that we have been
so urgently seeking. As practical as it is hopeful, this brilliant book shows how we can
build economic systems that meet both our material and spiritual needs. It illuminates
the way to a bold and exciting new future."
--Archbishop Desmond Tutu, Nobel Peace Prize Laureate

"A call to action. Not only must politicians, businesses, and financial institutions change,
each one of us must play a role in developing a more caring society. This book is an
important tool that can help us make that happen
--Jane Goodall, PhD, DBE, Founder, The Jane Goodall Institute and United Nations
Messenger of Peace

"A prescription for an economic system that is both equitable and sustainable. It should
be read and used by everyone who wants a better world!'
--Deepak Chopra, author of why God Laughing? The Path to Joy and Spiritual Optimism

"Eisler delivers another impressive work that's remarkably well referenced. well argued
insightful and hopeful."
--Publishers Weekly