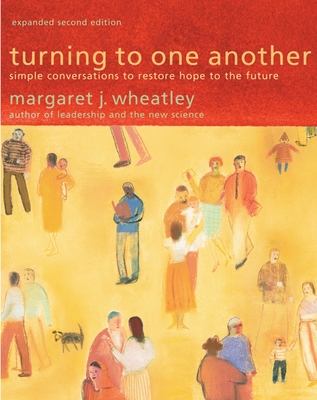 Turning to One Another
Simple Conversations to Restore Hope to the Future
Paperback

* Individual store prices may vary.
Description
"I believe we can change the world if we start talking to one another again." With this simple declaration, Margaret Wheatley proposes that people band together with their colleagues and friends to create the solutions for real social change, both locally and globally, that are so badly needed. Such change will not come from governments or corporations, she argues, but from the ageless process of thinking together in conversation. Turning to One Another encourages this process. Part I explores the power of conversation and the conditions-simplicity, personal courage, real listening, and diversity-that support it. Part II contains quotes and images to encourage the reader to pause and reflect, and to prepare for the work ahead-convening truly meaningful conversations. Part III provides ten "conversation starters"-questions that in Wheatley's experience have led people to share their deepest beliefs, fears, and hopes.
Berrett-Koehler Publishers, 9781576757642, 192pp.
Publication Date: February 2, 2009
About the Author
Margaret J. Wheatley is president of the Berkana Institute, a nonprofit education and scientific research foundation supporting the discovery of new organizational forms. She is the author of Leadership and the New Science, a groundbreaking international bestseller (translated into 12 languages), which was named Best Management Book of the Year by Industry Week magazine, one of the Top Ten Business Books of the 1990s by CIO magazine, and one of the Top 10 Business Books of All Time by Xerox Business Services Magazine. She is also the coauthor (with Myron Kellner-Rogers) of A Simpler Way.