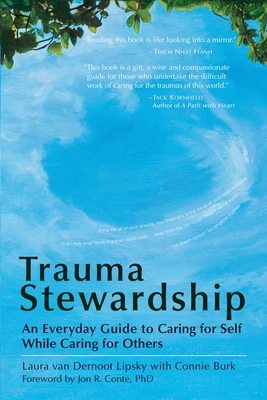 Trauma Stewardship (Paperback)
An Everyday Guide to Caring for Self While Caring for Others
Berrett-Koehler Publishers, 9781576759448, 288pp.
Publication Date: May 4, 2009
* Individual store prices may vary.
Description
A longtime trauma worker, Laura van Dernoot Lipsky offers a deep and empathetic survey of the often-unrecognized toll taken on those working to make the world a better place. We may feel tired, cynical, or numb or like we can never do enough. These, and other symptoms, affect us individually and collectively, sapping the energy and effectiveness we so desperately need if we are to benefit humankind, other living things, and the planet itself. In Trauma Stewardship, we are called to meet these challenges in an intentional way—to keep from becoming overwhelmed by developing a quality of mindful presence. Joining the wisdom of ancient cultural traditions with modern psychological research, Lipsky offers a variety of simple and profound practices that will allow us to remake ourselves—and ultimately the world.
About the Author
Laura van Dernoot Lipsky is a trauma social worker and educator.
Connie Burk is the executive director of the Northwest Network of Bisexual, Trans, Lesbian and Gay Survivors of Abuse.
Praise For Trauma Stewardship: An Everyday Guide to Caring for Self While Caring for Others…
"Reading this book is like looking into a mirror.We will see ourselves much more clearly, will understand ourselves much better and will come up with better ways of being It and doing It. Compassion, yes, Compassion is Happiness itself. Enjoy."
— THICH NHAT HANH, Zen Master and peace activist

"Anyone who works with traumatized people can be caught in the grip of anxiety, irritability, or overwhelming sadness. By shutting out those feelings, you may sink into emotional numbness.You wish for wise words and a fresh perspec- tive.You long for an understanding heart.You can find all that and more in Laura van Dernoot Lipsky's terrific book...It will get you through hard times. It will help you feel better and work smarter. No trauma worker should be without it."
— GINNY NICARTHY, counselor, educator, and author of Getting Free:You Can End Abuse andTake BackYour Life

"Trauma Stewardship provides valuable advice for all those who toil for the bet- terment of society and the environment we share. Author Laura van Dernoot Lipsky's lifetime of caring and service has given her powerful insights into those who have similarly devoted their lives to the greater good. She reminds us all to embrace the joy of connecting with the people and planet that we cherish and serve."
— JOHN FLICKER, President and CEO, National Audubon Society

"Laura makes a superb case for 'trauma stewardship' as an approach that will benefit all of us in the service community who must deal with the struggles of our work with a hurting world. Her real-life stories hit home and clearly illus- trate the ways that the traumatic situations we experience at work can carry into our personal view of our world. Laura helps us understand our own responses to trauma and provides a path of renewal. Her book offers tools to bring us back to a place of balance where we can be more effective in our work, more pres- ent with our families, and more importantly, more at peace in our own soul."
— MICHAEL L. TUGGY, MD, Director, Swedish Medical Center Family Medicine Residency Program; Medical Director, Swedish Family Medicine First Hill Clinic; and recipient of the Bronze Star from the US Army

"Laura van Dernoot Lipsky and Trauma Stewardship gave me language to describe what I was feeling after three trips to Iraq and subsequent work among US service members struggling to heal from war. Trauma Stewardship helped me acknowledge that my pain was not weakness to be suppressed or anesthetized but secondary trauma. But perhaps most important, Trauma Stewardship has shown me a path—not an easy one, to be sure, but a concrete one—toward a better and healthier life."
— BRIAN PALMER, journalist

"Having been an attorney for only two years, I was both surprised and relieved to recognize many signs of secondary trauma in myself. Surprised because I had never been able to acknowledge the impact of my work as a public defender in such a way; relieved for the very same reason. I have come to rely on this book as a means to help me bear the weight of what can feel like inexorable human tragedy. It is only through the practices articulated and encouraged in Trauma Stewardship that my spirit remains intact. Each person I represent is better served for my having used this book. I recommend it to every public interest attorney and law student."
— ELIZABETH LATIMER, public defense attorney, Brooklyn Defender Services

"It is extremely easy, especially as caregivers, to overlook ourselves and our care. Laura takes us, the trauma stewards, on a journey of self-healing: her book's humor will make you laugh; its tools will help make us whole. She reminds us that the work we do as caregivers not only impacts our clients but also deeply affects us. Trauma Stewardship provides us with methods to help us get in touch with habits and feelings that no longer serve us, our communities, or our work. A must-read for all those who understand that this work we do is sacred."
— KANIKA TAYLOR-MURPHY, community activist

"Laura is a weaver. She takes the harsh yet resilient fibers that are the stories of trauma survivors and workers, including her own, threads them together with common-sense advice, and creates a warm and soft blanket that comforts and protects. It is an important book because it reminds you to care for yourself as you care for others and then offers practical tools for doing so. I wish I'd had this book when I first began my work with women and children experiencing domestic violence!"
— GRETCHEN TEST, Program Associate for Child Welfare, Annie E. Casey Foundation

"In this groundbreaking guide to trauma stewardship, van Dernoot Lipsky shines new light on the care of the healers in the helping professions and provides a useful and loving guide to developing our ability to care for ourselves as much as we care for others. Anyone in the helping professions will benefit from the profound insights offered in this book."
— MIA EISENSTADT, consultant, activist, and anthropologist