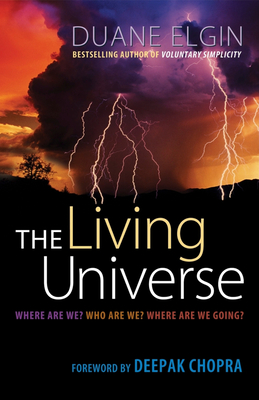 The Living Universe (Paperback)
Where Are We? Who Are We? Where Are We Going?
Berrett-Koehler Publishers, 9781576759691, 248pp.
Publication Date: April 6, 2009
Other Editions of This Title:
Paperback, Large Print (9/15/2010)
* Individual store prices may vary.
Description
Traditionally, science has regarded the universe as made up of inert matter and empty space. Duane Elgin brings together extraordinary evidence from cosmology, biology, and physics to show that the universe is not dead but rather uniquely alive, an insight that, he shows, is in harmony with all of the world's major spiritual traditions. He explores how this view radically transforms our concept of ourselves, our place in the cosmos, and the evolutionary trajectory of the human family. The nonliving view of the universe has led to rampant materialism and global environmental degradation. To transform our planetary crises we need to move past a paradigm of separation and exploitation and learn to live sustainably on the Earth, in harmony with one another, and in communion with the living universe.
About the Author
DUANE ELGIN is an internation- ally recognized visionary, speaker, and author. He earned his MBA from the Wharton Business School and then an MA in economic history from the University of Pennsylvania. In 2001 he was awarded an honorary PhD for work in "ecological and spiritual transformation" from the California Institute of Integral Studies in San Francisco. In 2006 Elgin received the
Goi International Peace Award in recognition of his contribution to a global "vision, consciousness, and lifestyle" that fosters a "more sustainable and spiritual culture."
Praise For The Living Universe: Where Are We? Who Are We? Where Are We Going?…
"No book describes more accurately or guides us more powerfully to the world now waiting to be born."
—Marianne Williamson, author of A Return to Love

"Vital reading for those wanting to explore and participate in the nature of reality at its most profound levels."
—Edgar Mitchell, ScD, founder, Institute of Noetic Sciences, and Apollo 14 astronaut

"A masterful, potent, and luminous contribution to both human knowledge and spiritual awakening."
—Jean Houston, cofounder, Foundation for Mind Research, and author of twenty-six books, including A Passion for the Possible

"It's all here—brilliant discoveries of contemporary science, key insights of the world's religions, and practical programs of action for bringing forth a new world." 
—Brian Swimme, PhD, Professor of Cosmology, California Institute of Integral Studies, and co-author of The Universe Story