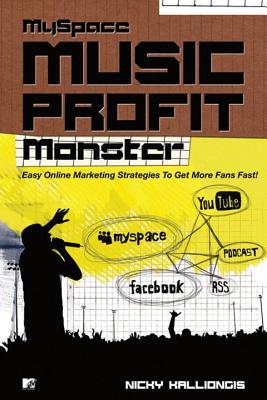 Myspace Music Profit Monster!: Proven Online Marketing Strategies! (Paperback)
Proven Online Marketing Strategies!
MTV Press, 9781576874462, 191pp.
Publication Date: March 4, 2008
* Individual store prices may vary.
or
Not Currently Available for Direct Purchase
Description
From one of the music industry's top executives comes the ultimate guide to making the most of the internet to promote yourself and your music. Nicky Kalliongis is a veteran music industry professional who's worked with the likes of the legendary Clive Davis and L.A. Reid, and with artists as diverse as Aretha Franklin, Avril Lavigne, OutKast, Pink, and Prince. He has been involved with hit singles and albums totaling over 653 million copies in sales. Now, he divulges proven Internet marketing strategies for the digital world, and demonstrates how any musician or band can put them to use without the benefit of a big budget, marketing team, or PR person.

This step-by-step guide shows you how to:
• Make the most of your MySpace page.
• Utilize MySpace, YouTube, Facebook, and Squidoo in concert for maximum online presence.
• Get people to visit your site and listen to your music.
• Increase traffic to your site.
• Write and circulate an effective press release.
• Attract media, radio stations, record labels, and fans.

Whether you're tr ying to get a record contract or stay independent, MySpace Music Profit Monster gives you all the tools you need to successfully establish yourself online. You make the music. This book will do the rest.

"One of the premier music executives in the country, Nicky has participated in the success of the world's biggest acts, including Whitney Houston, Toni Braxton, Aretha Franklin, Carlos Santana, and Prince. His tremendous work ethic, attention to detail, and superb musical instincts truly exemplify him as one of the top A&R men in the business today."
—Monte Lipman, President, Universal Republic Records
About the Author
Nicky Kalliongis is a multifaceted music industry professional, a highly successful A&R man as well as an accomplished musician and technician. He worked intimately with Clive Davis and was responsible for identifying and developing hit songs. In various capacities, he has worked on over 653 platinum albums with superstar artists, including Ace of Base, Alicia Keys, Annie Lennox, Aretha Franklin, Avril Lavigne, Babyface, Biggie Smalls, Billy Joel, Carly Simon, Dido, Eurythmics, Grateful Dead, Lisa Stansfield, Luther Vandross, Monica, OutKast, Pink, Prince, Puff Daddy, The Rolling Stones, Run DMC, Santana, Sarah McLachlan, Soft Cell, Thompson Twins, TLC, Toni Braxton, Usher, Whitney Houston, and Yes.
Advertisement