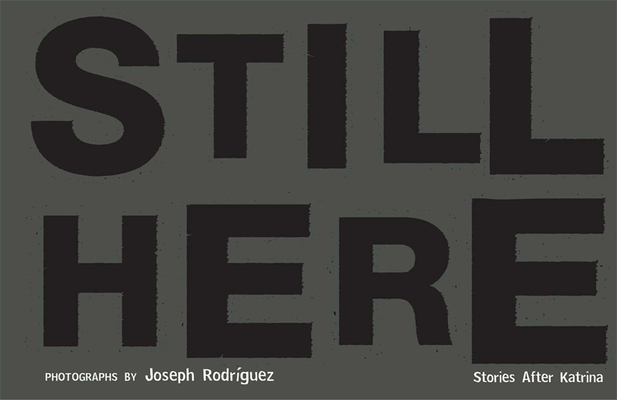 Still Here: Stories After Katrina (Hardcover)
Stories After Katrina
powerHouse Books, 9781576874608, 140pp.
Publication Date: September 9, 2008
* Individual store prices may vary.
or
Not Currently Available for Direct Purchase
Description
Here, Rodriguez documents the communities that were devastated by Hurricane Katrina, photographing and interviewing families and individuals struggling to rebuild their lives. Like the photographers who worked during the Great Depression, his book alerts readers to the ongoing pressures faced by some of the US's most vulnerable citizens.
About the Author
Joseph Rodriguez was born and raised in Brooklyn, New York. Rodriguez's work has appeared in such publications as "The New York Times Magazine, National Geographic, GQ, Newsweek, Esquire, ESPN magazine," and "Stern." He has received awards and grants from a number of prestigious ar ts organizations, including Pictures of the Year by the National Press Photographers Association in 1990, 1992, 1996, and 2002. His previous books include "Flesh Life: Sex in Mexico City, Juvenile, " and "East Side Stories: Gang Life in East L.A." (powerHouse Books, 2006, 2003, and 1998), The New Americans (New Press, 2004), Respekt: Gangs and Their World in Los Angeles (DN Bokforlaget, 1997), and Spanish Harlem (National Museum of American Art/DAP, 1995). Rodriguez teaches at New York University and at the International Center of Photography. He is currently represented by the Bill Charles agency.

Patrice Pascual is the executive director of the Journalism Center on Children & Families, a nonprofit training and resource service for journalists based at the University of Maryland's Merrill College of Journalism. Before joining the center in 1999, she was a freelance writer and editor for print and web-based publications and worked in public television.

"The feeling the evacuees got from volunteers was, 'We did what we could do for you, now you're on your own.' That's the American way, that's what we're supposed to do. The evacuees were like, 'We're trying, we're trying.'"

--Joseph Rodriguez
Advertisement