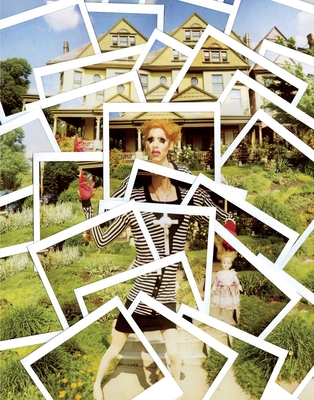 It's Always Darkest Before Dawn (Hardcover)
powerHouse Books, 9781576875681, 150pp.
Publication Date: May 20, 2011
* Individual store prices may vary.
or
Not Currently Available for Direct Purchase
Description
For nearly a decade, through his enigmatic and compelling Polaroids, Jeremy Kost has been telling the stories of New York nights from within its hottest party spots.

In 2002, while staying with friends in Chelsea, Kost borrowed the camera of one of his hosts and took it to The Cock. Ever since that fateful night, year after year, Kost has been the sole photographer to capture a complete millennial portrait of New York's famed drag queens, go-go boys, transsexuals, and wild-partying celebrities.

An exhilarating trip through underground New York, It's Always Darkest Before Dawn puts you on the guest list for a world of vivacious creativity, performance, costume, and evidence (if you needed it) that a certain kind of fabulous madness ain't dead yet, and was around way before Lady Gaga!

Celebration, angst, drunken revelry, joy, exhaustion, vulnerability, honesty, and pomp and circumstance are all captured in the uncompromising immediacy of Kost's Polaroids of personalities such as Amanda Lepore, Sophia Lamar, and oddly enough even former President Bill Clinton, Pamela Andersen, Paris Hilton, and many more.

It's Always Darkest Before Dawn is Kost's first monograph and collects the best, most outstanding images of New York's club culture created in the new millennium.
About the Author
Jeremy Kost creates art with his tried and true Polaroid cameras, flying in the face of the rising tide of digital image making. Kost was recently featured in the ICP Triennial. His work has been the subject of solo shows in Paris and Washington, D.C. Kost has also exhibited at the National Arts Club in New York City. Kost lives and works in New York City.

Eric C. Shiner is the Milton Fine Curator of Art at The Andy Warhol Museum in Pittsburgh and an adjunct professor in the History of Art and Architecture department at the University of Pittsburgh.

Ladyfag was born Rayne Baron in Toronto, Canada. In 2006, she relocated to New York City assuming the name Ladyfag.
Praise For It's Always Darkest Before Dawn…
"'The collages were my favorite pieces to make, with the whole idea of hiding flaws and accentuating strong points.'"
Jeremy Kost, New York Times, T Style

"'It's the fantasy that attracts me. My relationship to the characters and subjects is the metaphor for transformation. They're like butterflies.'"
Jeremy Kost, Los Angeles Times

"This first monograph from party photographer Jeremy Kost, master of the Polaroid collage captures New York's underground club scene with vibrantly skewed portraits of drag queens, go-go boys, trans divas and hard-partying personalities by cocktail-shaking spontaneity with meticulous composition, accentuating the careful performance aspect of nightlife culture."  Advocate

"It's fashionable to say that truly thrilling New York City nightlife died off during the Giuliani era. But It's Always Darkest Before Dawn, a collection of Polaroids shot by photographer Jeremy Kost, proves you can still find places packed to bursting with overstimulated club kids, fabulous drag queens, and debauched celebs-if you know where to look."
Details
 
"Kost's shots are unstaged, honest and show a good time!"
iD
 
Jeremy Kost has "...made a career of inviting us beyond the velvet ropes to the go-go boys, drag queens and delicious eye candy that light up the night."
New York Press
 
Advertisement