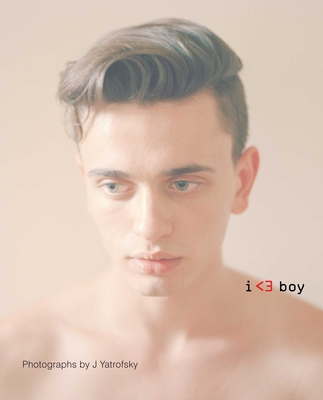 I Heart Boy (Hardcover)
powerHouse Books, 9781576875698, 144pp.
Publication Date: February 22, 2011
Description
With an erotic softness and quiet confidence, the young, fully-nude subjects in I Heart Boy exhibit a willingness to be celebrated by all for their beauty and openness. Posing in the intimacy of their own homes, often in studio apartments in Manhattan's East Village and Lower East Side, and Williamsburg and Downtown Brooklyn, lanky, hairless bodies are posed sensually against the minimalist backgrounds of naturally lit rooms with sparse furnishings.
It's an aesthetic with nods to Larry Clark and the 80s underground music scene, and appreciated by the likes of designer Hedi Slimane, American Apparel, and the most popular indie bands from New York, L.A., London, Paris, and Berlin. Yatrofsky's waif-like men--merely boys just a few years ago, bordering on androgynous, with an occasional tattoo and a bit of punk swagger to match their youthful naivete--hardly resemble even the shadow of the beefcake of generations past. This is the undressed and carefree look of today's urban trendsetter--whose style trickles out of the young, creative circles in cities, only to be copied elsewhere tomorrow.
With each photograph, these sexually charged images of male bodies invite the viewer to dwell upon the welcome tenderness of warm skin. Ultimately I Heart Boy is a series of nudity in the purest sense; of being simply bared as human before the world.
About the Author
J. Yatrofsky is a New York-based photographer, known for work with naked men. Raised in Las Vegas, Yatrofsky began by photographing male go-go dancers in nude strip clubs, and has photographically explored people's bodies ever since. Yatrofsky is a regular contributor to EastVillageBoys. com and founder of iheartboy.com, a website dedicated to picturing young men in provocative ways. Yatrofsky's artwork also includes performance projects in which audiences are confronted with nudity and sexual politics, and videos that explore beauty, objectification, and perception. Yatrofsky received an MFA from Parsons The New School For Design. Weston Bingham co-founded East Village Boys, an independent, New York-based online publication, in 2008. EastVillageBoys.com is dedicated to filling some of the holes in the codified, mainstream representation of gay culture. Their carefully curated features and collaborations include the best emerging talent from around the world as well as the occasional notorious troublemaker, and include photographers, artists, musicians, performers, fashion designers, writers, and label-eschewing makers and doers of things.
Praise For I Heart Boy…
"Her photos are a provocative—and, in a world full of Terry Richardson types, much-needed—portrayal of male sexuality."
Elle

"While these images are not truly erotic, they aren't sterile or overly stylized. Their appeal is sensual and soft—a weirdly incongruous beauty that isn't masculine in the traditional sense, but unquestionably male."
New York Press

"I <3 Boy, photographer J. Yatrofsky — the J. is for Jessica, surprisingly — celebrates the androgynous beauty of slim, mostly nude dudes shot with minimalist moxie in New York apartments."
Advocate's Hot Sheet
Advertisement