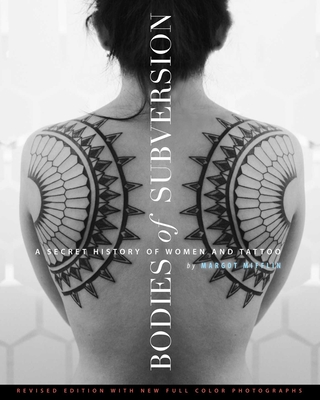 Bodies of Subversion
A Secret History of Women and Tattoo, Third Edition
Paperback

* Individual store prices may vary.
Other Editions of This Title:
Hardcover (6/25/2013)
Description
Newly revised and expanded, this remains the only book to chronicle the history of both tattooed women and women tattooists.

Bodies of Subversion was the first history of women's tattoo art when it was released in 1997, providing a fascinating excursion to a subculture that dates back to the nineteenth-century and including many never-before-seen photos of tattooed women from the last century. As the primary reference source on the subject, it contains information from the original edition, including documentation of:

·Nineteeth-century sideshow attractions who created fantastic abduction tales in which they claimed to have been forcibly tattooed.
·Victorian society women who wore tattoos as custom couture, including Winston Churchill's mother, who wore a serpent on her wrist.
·Maud Wagner, the first known woman tattooist, who in 1904 traded a date with her tattooist husband-to-be for an apprenticeship.
·The parallel rise of tattooing and cosmetic surgery during the 80s when women tattooists became soul doctors to a nation afflicted with body anxieties.
·Breast cancer survivors of the 90s who tattoo their mastectomy scars as an alternative to reconstructive surgery or prosthetics.

The book contains 50 new photos and FULL COLOR images throughout including newly discovered work by Britain's first female tattooist, Jessie Knight; Janis Joplin's wrist tattoo; and tattooed pastor Nadia Bolz-Weber. In addition, the updated 3rd edition boasts a sleek design and new chapters documenting recent changes to the timeline of female tattooing, including a section on: celebrity tattoo artist Kat Von D, the most famous tattooist, male or female, in the world; the impact of reality shows on women's tattoo culture; and, therapeutic uses of tattooing for women leaving gangs, prisons, or situations of domestic abuse.

As of 2012, tattooed women outnumber men for the first time in American history, making Bodies of Subversion more relevant than ever.

"In Bodies of Subversion, Margot Mifflin insightfully chronicles the saga of skin as signage. Through compelling anecdotes and cleverly astute analysis, she shows and tells us new histories about women, tattoos, public pictures, and private parts. It's an indelible account of an indelible piece of cultural history."
-Barbara Kruger, artist
Praise For Bodies of Subversion: A Secret History of Women and Tattoo, Third Edition…
"...a heavily updated and resplendently illustrated third edition."
-New York Times

"The first conclusive study of women and tattoos Bodies Of Subversion: A Secret History Of Women And Tattoos by Margot Mifflin has been released, and it shows that love 'em or hate 'em tattoos are on the up."
-Grazia (UK)

"Margot Mifflin's newest edition of Bodies of Subversion: A Secret History of Women and Tattoo pasy rightful homage to the foremothers of tattoos and highlights modern goddesses."
-Inked

"Seeing all these tattooed ladies make us want to go out and get inked!"
-Paper online
powerHouse Books, 9781576876138, 160pp.
Publication Date: January 15, 2013
About the Author
Margot Mifflin writes about women, art, and contemporary culture. She has written for The New York Times, The New Yorker, Entertainment Weekly, The Believer, and Salon.com, and she lectures about body modification at colleges, museums, and universities nationally. Mifflin is an associate professor in the English Department of Lehman College of the City University of New York (CUNY), and directs the Arts and Culture program at CUNY's Graduate School of Journalism, where she also teaches. Her book The Blue Tattoo: The Life of Olive Oatman will be published by The University of Nebraska Press in March.