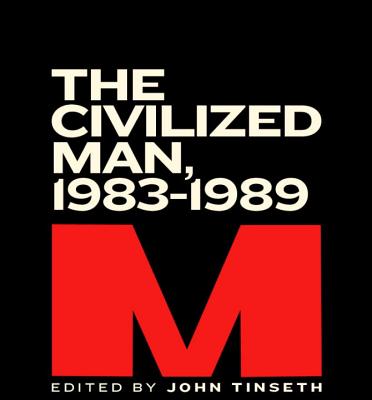 M: The Civilized Man, 1983-1989 (Hardcover)
The Civilized Man, 1983-1989
powerHouse Books, 9781576876145, 368pp.
Publication Date: November 1, 2012
* Individual store prices may vary.
or
Not Currently Available for Direct Purchase
Description
In the 1980s there was no better guide to preppy fashion and lifestyle than American menswear magazine M.

M: The Civilized Man, 1983–1989, collects the best of M magazine and traces the wild years of the 1980s through the best restaurants, wildest bars, business legends, and classic apparel. Created as the men's W by John Fairchild, M featured fashion advice, styling, and advertisements from the likes of Ralph Lauren, Calvin Klein, Perry Ellis, Jeffrey Banks, Armani, Luciano Barbera, Britches of Georgetown, Mariano Rubinacci, Robert Talbot, Alexander Julian, Jordan Marsh, Nicky Wallace, Ferrel Reed, Gianfranco Ferre, Bigsby & Kruthers, Hilditch & Key, La Matta, Paul Stuart, FR Tripler, Andre Oliver, Kilgore Trout, Rooster, John Mendez, Barry Bricken, Kenneth Gordon, Henry Grethel, and Gitman Brothers, at the peak of 80s prep and traditional American sartorial dominance. But M staffers, including Mark Ganem, George Whipple, and Fairchild himself under his nom de plume W. Rushton Chatsworth III, supplied more than just the fashion. They documented their upper-class, urbane, lifestyle as it was lived in New York City: the Surf Club; the Zulu Lounge; lunch at the Four Seasons; how to find the perfect tailor and the perfect wife. M was on the newsstands from late 1983 to its demise in 1992 with Clay Felker at the helm. M: The Civilized Man, collecting the best of M, is like a yearbook that will take you back to those days. Whether you missed it or just don't remember it, M: The Civilized Man can fill in the holes.

"In this increasingly less-than-perfect world, the man who dresses with style—that is, appropriately to the occasion as well as to his own personality and station—almost always stands out." —from "Clothes with Style," by Robert Bryan for M
About the Author
John Tinseth, an ex-deputy sheriff, ex-paratrooper, and ex-park ranger, is the author of the men's style blog, The Trad, whose tag line, "Not as good as it was--better than it will be," sums up his view of life. You think it's bad now? Just wait. Appreciate it while you can. As an Army brat, Tinseth saw enough of the world at an early age to know "assholes are everywhere." For this reason, he doesn't like much, but what he does like is what he loves. Tinseth hangs his clothes, for now, in New York City.
Advertisement