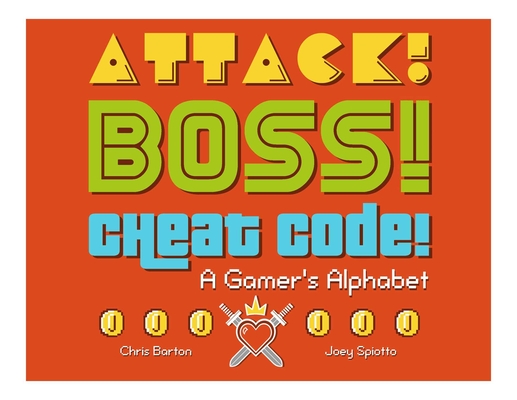 Attack! Boss! Cheat Code!
A Gamer's Alphabet
Hardcover

* Individual store prices may vary.
Description
Bone up on your gaming knowledge with this gently ironic yet thoroughly informative guide to video game terminology, presented as a picture book for all ages.Attack! Boss! Cheat Code! A Gamer's ABCis an indispensableguide, a lively look at the language of video games that might actually bridge the gap between game-obsessed kids and their often-perplexed parents.

If you can decipher the following sentence, you don't need this book:

"This open beta game is in third-person but first-person is unlockable if you know the cheat code or install your own mod, but either way, for the best attack on the boss on this level, try to grab that power-up!"

Almost any 9-year old could translate for you but if you don't have access to one, try this book instead.

Video games are the dominant form of pop culture today, a $75 billion industry worldwide, and an inescapable part of modern living. Don't be left out! A quick perusal ofAttack! Boss! Cheat Code!is all you need to get in the game. Brilliantly colorful illustrations by video game artist Joey Spiotto vividly embody the terminology of video games, bringing the world of video games to life.Lucid definitions make terms clear and understandable, even for non-players.

Presented as an alphabet,Attack! Boss! Cheat Code!is also an entertaining visual history and glossary of gaming, providing a solid understanding of terms that have made their way into everyday language, from to "mod" to"RPG."
Praise For Attack! Boss! Cheat Code!: A Gamer's Alphabet…
"We both appreciated Joey Spiotto's cute and colorful illustrations that accompanied the terms."
- Boing Boing

"Here's a new book, gorgeously illustrated, that takes a lighthearted look at the lexicon of game culture."
- Polygon

"It's a novel concept – take gamers from A to Z and give them nostalgic images that will spark great or not so great memories. It will be at home on a coffee table, in a dorm room or in your Man Cave."
- The Houston Chronicle

"It combines common gaming terms and lingo with colorful illustrations by artist Joey Spiotto to create an introductory book that people of all stripes can learn from and enjoy."
- The Escapist

"Each illustrated page features a term that may or may not be familiar to little joystick jockeys. It might even help adults understand what their kids mean when they talk about "griefers" and "sandboxes."
- Austin Chronicle

"As they say, a picture is worth a thousand words, and in this book, the illustrations are absolutely brilliant, a true joy to look at, paired with light-hearted, informative, and positive descriptions of each piece of gaming terminology."
- Dmr.fm



POW! Kids Books, 9781576877012, 32pp.
Publication Date: October 14, 2014
About the Author
Chris Bartonis the acclaimed author of SHARK VS. TRAIN (Little, Brown), FALSE IDENTITIES (Dial), and THE DAY-GLO BROTHERS (Charlesbridge), both of which received three starred reviews and made three major publishing best-of-the-year lists plus receiving many additional notices; in addition, SHARK VS. TRAIN was a NYT bestseller and THE DAY-GLO BROTHERS received a Sibert Honor. Chris lives in Austin, TX. Find him on the web at www.chrisbarton.info Joey "Joe-bot" Spiottois an illustrator from southern California. Joe has worked on film and video-game projects with Warner Bros., Electronic Arts, Telltale Games, Gazillion, and many more. His tee-shirts sell on Teefury.com, and his work is shown t the high-profile Gallery 1988 in Los Angeles, CA. Visit him online at www.jo3bot.com/
or
Not Currently Available for Direct Purchase