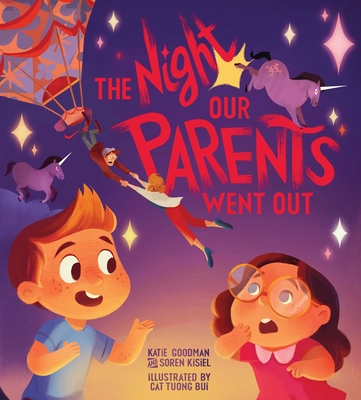 The Night Our Parents Went Out (Hardcover)
POW!, 9781576877470, 32pp.
Publication Date: November 5, 2015
* Individual store prices may vary.
Description
Loaded with humor and heart, The Night Our Parents Went Out is the only picture book on the market to reassure kids that their parents can handle a date night. In this book, two children brew up increasingly wild adventures that befall mom and dad in an evening. From runaway hot air balloons to vampire movie ushers, the kids reveal that when they are nervous, their imaginative prowess kicks into high gear. For the fortunate babysitter, The Night Our Parents Went Out is the perfect way to lighten the atmosphere and make the kids feel comfortable when their parents depart.
About the Author
Katie Goodman and Soren Kisiel, a wife-husband team, are the creators, writers, and directors of the comedy troupe Broad Comedy. They are also the co-founders of the Equinox Theatre Company, they run a summer theater camp for kids in Montana, and they do other co-things that led to co-parenting in recent years. Katie and Soren been nominated for the MacArthur Foundation Genius Award for their work in theatre. Their popular YouTube video, Sh*t Park Slope Parents Say, is a gently satirical take on modern parenting in Brooklyn. In addition to Broad Comedy, Katie has written for O, The Oprah Magazine and is the author of Improvisation For The Spirit: Live A Creative, Spontaneous, and Courageous Life Using the Tools of Improv Comedy. She is a nationally touring public speaker and leads retreats under the title "Improvisation For The Spirit." Soren is also an internationally touring improv comedian and an award-winning playwright. Katie Goodman and Soren Kisiel reside in Brooklyn, NY.
Praise For The Night Our Parents Went Out…
"Assaults by evil unicorns! A giant squid! Aggressive ostriches! A vampire usher! When mom and dad go out for a date night, anything might happen to them. In this deliciously playful picture book a brother and sister, left in the care of a sitter trying her best to keep up with their mind games, let their imaginations run wild as they invent one satisfyingly preposterous scenario after another. After turning the last fun-filled page, young readers may want to make up their own wacky stories about the risks parents face when they take off for dinner and the movies, leaving their tall-tale-telling kids behind." — Judith Viorst, best-selling author of Alexander and the Terrible, Horrible, No Good, Very Bad Day
 
"A creative babysitter who gets her catastrophizing charges to eat dinner, clean up, do the dishes, brush their teeth, and change into their pajamas while using imaginative mental judo to parry their mounting fears? Give that gal a raise! Two anticipatory anxiety-ridden siblings with paranoiac imaginations gone haywire are convinced that their parents' date night might be turning into an Indiana Jones-type adventure filled with refracting rainbows, evil unicorns, sewer alligators, and guard ostriches. This might be what we'd get if Thomas Pynchon re-wrote The Cat in the Hat. It goes without saying that The Night Our Parents Went Out should be required reading for babysitters everywhere." —Randy Kaplan, People Magazine Top Ten family entertainer, performer of multiple hit songs on SiriusXM Radio's Kids Place Live. 
 
"A wild, whimsical and witty romp that keeps twisting in unexpected directions. A wonderful exploration of the joys — and occasional pitfalls — of letting your imagination run amok. My children were enchanted by the clever drawings and endlessly amused by this charming, laugh-out-loud tale."—Stuart Gibbs, New York Times bestselling author of Spy School, Belly Up, and Space Case


"A delightfully entertaining romp based on the boundless power of children's imagination. A great icebreaker for any new babysitter." —Bill Fagerbakke, voice of Patrick Star from SpongeBob SquarePants

"The co-authors are professional improv/stand-up performers, and that background shows in the rapid, free-form way scenarios develop as they're tossed back and forth. …Entertaining." —Kirkus Reviews

"Imagination is where the real fun is. First-time authors Goodman and Kisiel, a husband-and-wife team, run a comedy troupe, and it shows: the children's exchanges with their babysitter have the freewheeling, anything-goes energy of improv." —Publishers Weekly