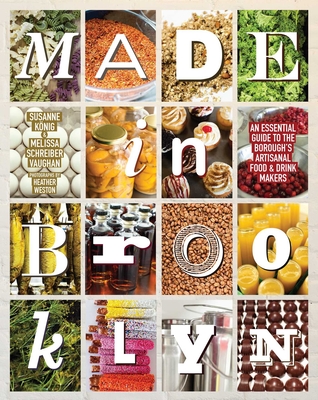 Made in Brooklyn
An Essential Guide to the Borough's Artisanal Food & Drink Makers
Hardcover

* Individual store prices may vary.
Description
Over the past decade, Brooklyn has emerged asthe epicenter of the craft food and drinks movement.Made inBrooklynis a gorgeously photographed and selectively curatedcatalog of the wondrous varietyof food and drinkavailable in the trailblazing borough, featuring morethan 110 different Brooklynmakers and over 1100 original photographs, fromold-school favorites such as Acme Smoked Fish andFox's U-BetChocolate Syrup to newer makers whose products are destined to become classicsin theirown right, such as Salty Road Salt Water Taffy and Van BruntStillhouse. Each maker is profiled in depth,depicting the artisans' craft and methodsalong with personal histories.

Made in Brooklynwill include a list of shops, markets and liquor stores that feature anextensive range of Brooklyn-madefoods and goods, along with an informalwalking tour where a variety of makers offer tours, tastings, and workshops.
Praise For Made in Brooklyn: An Essential Guide to the Borough's Artisanal Food & Drink Makers…
The stories behind quintessential Brooklyn foodstuffs like Fox's U-Bet chocolate syrup, Acme smoked fish and newcomers like Brooklyn Brine pickles, Ample Hills ice cream and Owney's Original New York City Rum are recounted in 'Made in Brooklyn.'—Florence Fabricant, The New York Times

Everywhere you go, whether you're in Australia or England or Paris even, they're referencing Brooklyn in some way...arguably, we're looking at the Brooklynization of the world at this point.
—Anthony Bourdain, chef, author and TV host
 
If Smorgasburg and Brooklyn Flea are the food-scene stage, then Made in Brooklyn is the behind-the-scenes all-access pass, revealing the inspiring stories of our homegrown makers and showing the world what makes real Brooklyn tick.  
—Eric Demby, co-founder of Brooklyn Flea and Smorgasburg
 
Made in Brooklyn is a great source book for locally-made food and beverages and makes a perfect gift not only for visitors, but also for any new or native Brooklynite. A wonderful whirlwind tour of the best out there in Brooklyn.
—Francine Stephens, Proprietor franny's, BKLYN Larder, and Rose's Bar & Grill. 

I thought I knew this trendiest of boroughs pretty well. Now along comes a vibrant and user-friendly compendium called Made in Brooklyn, highlighting 111 exciting food and drink products made locally in small batches by quirky artisans and in large batches by famous companies.
—Huffington Post

An insider's guide to Brooklyn's craft-food-and-drinks movement.
—Vanity Fair 

Reason it's a page turner: You can practically taste everything on the page thanks to the gorgeous photography by Heather Weston. Reason to shut the nightlight: I said "practically." This book will make you hungry!
—The Alcohol Professor 

Flipping through the book inspires two feelings: one, incredible hunger — the photos really are good — and two, wonder at the immense diversity of the business represented within. 
—The Jewish Week

For the Kings County Completist... No one knows how many painstaking producers of food and drink there are in Brooklyn these days. Well, maybe Marty Markowitz does. The point is that it's nearly impossible to keep track of all the small-batch, hand-crafted activity. Which is why Made in Brooklyn, by Susanne König and Melissa Schreiber Vaughan, is such a handy resource. All the great picklers, beer brewers, bread bakers, granola-makers, ice cream churners, kale dehydrators, bitters bottlers, taffy pullers, fish smokers, coffee roasters, whiskey distillers, and more are here. 
—Grub Street

 
powerHouse Books, 9781576877609, 208pp.
Publication Date: October 20, 2015
About the Author
Susanne Königis the director of and buyer for The POWERHOUSEArena in Dumbo, Brooklyn, renowned for hostingeclectic cook book parties formany Brooklyn-based chefs and makers including Pok Pok, Fleischer's, KingsCounty, AmpleHills, Sunday Suppers, Franny's, Baked, and many more. She alsocurates an extensive collection of Brooklyn-madeproducts.After spending her childhood and formative years in Germany, Belgium,and Paris where she worked at Sotheby'sand for French art bookpublishers, she moved to New York in 2000. She works and livesin Brooklyn with her husband andson. Melissa Schreiber Vaughanis the co-author ofThe New Brooklyn Cookbookand a recipe developer and tester, whose work has appeared in national food magazines and more than 20 cookbooks. Melissa curates food events throughout Brooklyn and lives in Park Slope with her two budding foodies, Roan and Dory. Heather Westontakes pictures. Whether in the studio or on location she loves to photograph people and food. Heather lives in Brooklyn with her husband and daughter and is a proud ballet mom. To see more of her photography visit www.heatherweston.com. ContributorBios: Rachel Whartonis aJames Beard Foundation award-winning foodwriter, cookbook author and contributingeditor to Edible Brooklyn. David Wondrichis one ofthe world's foremost Americancocktail historians, a James Beard Foundationaward-winningdrinks writer, and author of Imbibe!
or
Not Currently Available for Direct Purchase