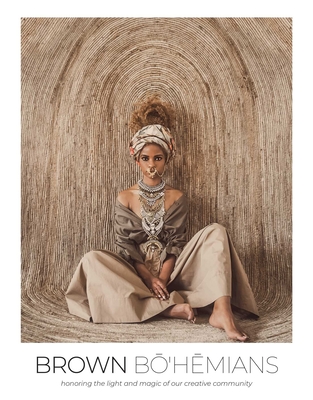 Brown Bohemians
Honoring the Light and Magic of Our Creative Community
Hardcover

* Individual store prices may vary.
Description
Brown Bō'hēmians captures the essence and voice of an underrepresented demographic: creative people of color. Influenced by a deeply held belief that stories sculpt our collective narrative, a group of authors and artists came together to create this first-of-its-kind collection. Inspired by their unique tastes and experiences in fashion, lifestyle, and art, Brown Bō'hēmians brings a vital and virtual movement, born on social media, to life and into print.

People of color are the originators of all things, yet are all too often overlooked. Each of our stories is unique, but collectively they contribute to the rebuilding of community, and counter hundreds of years of colonialism, narrow minded and harmful media representation, non-inclusive and conformist beauty standards, and a systemic, historical lack of recognition for our contributions. Brown Bō'hēmians reclaims a small piece of a space that has always been rightfully ours.

Created to recognize and elevate the underrepresented and the undervalued, Brown Bō'hēmians is food for the creative spirit that most needs it: you.
Praise For Brown Bohemians: Honoring the Light and Magic of Our Creative Community…
"With a slew of colorful, bold photographs, Vernon, Ashley, and Pruitt, owners of the Bohemian Brands online clothing and home-goods store, spotlight a creative community of authors and artists "recognizing and elevating the underrepresented and the undervalued." The bohemian lifestyle, according to the authors, is marked by openness, creativity, appreciation of all life, and guided by the spirit to forge artistic freedom. To that end, in this collection of photos and mini-biographies, they gather a well-rounded group of "Brown Bohemians" who hail from Africa, Europe, Asia, the Caribbean, and the U.S. Shanita Sims, a photographer from Brooklyn, thinks that "vulnerability is where the magic begins." Shanaz Hughson, a jewelry designer and native of Mumbai, India, believes all free spirits are at war with censorship and violence ("body decoration is our sacred duty" reads the text alongside photos of handmade brass jewelry). Jae Vernon, a black lesbian immigrant to the U.S. from London "who often gets called 'young man'?"-pictured in a black beret and turtleneck sweater-has learned to live egoless with her androgynous lifestyle. Thought-provoking, elegant, and immensely entertaining, this coffee-table book opens a window onto creative bohemian life."
— Publishers Weekly

"Brown Bo'hemians found its genesis in the digital world. It was born through social media where like-minded individuals created a space to share interests - in fashion, lifestyle and art, a place they felt was denied to them through traditional means. After coming together through virtual spaces, they have made that gathering more concrete and enduring through a physical object."
— Washington Post

"Though it can be hard to find joy in our challenging world right now, art and creativity provide both refuge and escape. Music, film and books that explore creative expression are more vital than ever. That's why we recommend the beautiful new tomeBrown Bo'hemians,which celebrates the essence of creative people of color in exciting and visually powerful ways. A compelling collection of words and images."
— LA Weekly
powerHouse Books, 9781576879238, 224pp.
Publication Date: February 18, 2020
About the Author
Born in the Mojave Desert, California, Vanessa Coore Vernon's purpose is to live her best, most authentic life-which she'll probably live (two or three) more times. Growing up on both the West and East Coasts fueled her love of exploration and nurtured her wildish spirit. Creative Curator of the lifestyle collective The Bohemian Brands with her partner Morgan Ashley, she blends her love of design, film, travel, and art to create a wanderlust of visual storytelling. Each of the brands acts as an intersection for local and global artistry, while actively providing space to connect, create, and collaborate. Through social platforms, she is able to engage in the celebration of the black and brown community globally. Vanessa currently resides in Atlanta amongst a girl gang of other inspirational women, and is forever indebted to her favorite humans, Valerie and Veronica. Born and raised in Oakland,Morgan Ashley's nomadic spirit led her to Atlanta and into alignment with her current role as Director of PR and Operations forThe Bohemian Brands. Destined to be anything but ordinary, Morgan's uncompromising, unapologetic pride in her blackness and queerness guide her as an entrepreneur and cultural purveyor. A connoisseur of culture, style, and cuisine, Morgan relied on these core tenets during her earliest days as an influencer and entrepreneur, launching the food discovery brand,EatHereATLthat she has since sold. It was also during this period of growth and discovery that she connected with business partner Vanessa Coore Vernon and conceivedThe Bohemian Brands, a joint venture created to rewrite the narrative behind the bohemian lifestyle and shed light on the intersectionality of social institutions such as race, sexuality, and gender. For Morgan, being Black is more than an identity; it is manna from heaven. Wendy Pruitt is a creative director and graphic designer who loves helping people bring their visions to life. Over the course of her over-15-year career, Wendy has worked on television commercials, radio ads, packaging, websites, piles of postcards, branding, and at least one pin-up calendar. This is her first book. Originally from the suburbs of Rochester, New York, she studied at the University of Florida before moving to Atlanta and attending The Creative Circus. After a decade in the corporate agency world, she set out as the founder of her own agency. While working with The Bohemian Brands, she's provided typeset artwork for products and visual brand boards. Wendy currently lives just outside Atlanta, in Decatur (where it's greater) with her husband, son, three cats, a dog, a fish, and a mess.