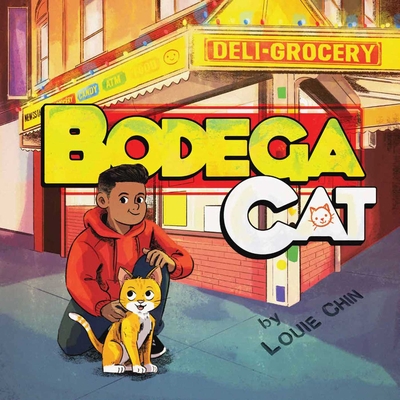 Bodega Cat
Hardcover

* Individual store prices may vary.
Description
A recipient of the Junior Library Guild Gold Standard Selection Award, Bodega Cat is an ode to New York's iconic feline friend, and the communities they call home.

Bodega is a Spanish word for "grocery store," but they are so much more than that. Bodegas are often a community cornerstone, a welcoming neighborhood haven, and in New York, an emblem of the city's cultural diversity. And who knows these treasured institutions better than the cats who run them? (Or at least they think they do!)

In Bodega Cat, a cat named Chip takes us through his bustling workday at the Matos family's bodega: from receiving boxes in the morning and the breakfast rush, through counting inventory and making deliveries, to dinnertime with his family, when Papi cooks up some of the best Dominican food in the borough for their friends and neighbors. There is no rest for this busy kitty...except for when it's time to chase pigeons with his brother Damian, or to take the occasional nap on the potato chip bags.

A slice of city life that celebrates the people who give New York its heart.
Praise For Bodega Cat…
"Chin's vibrant illustrations are touched with a graffiti-artist vibe and bring the world of the bodega to life with engaging full-color spreads. Details will feel perfectly executed to those familiar with bodegas already and will quickly transport those who haven't yet had the pleasure. Readers' mouths will water at the delicious-looking food prepared in the bodega's kitchen. This cute cat seamlessly works an education on bodegas into a playful story. "
— Kirkus Reviews (Starred Review)

"A cat named Chip takes readers through his day in this hip, comic-style picture book about a bodega's role in a bustling city neighborhood. From the early morning deliveries with Dominican bodega proprietor Papi to the breakfast rush, taking inventory, and working the register, Chip-self-proclaimed "boss of this bodega"-has a paw in every aspect of the store's operation. In the afternoon, Chip takes a break from supervising to romp and lounge with human brother Damian and the feline "boss" of a nearby Korean grocer, with whom Chip and family share a genial meal at day's end. Chin's attentive watercolor, gouache, and digital art features authentic city scenes, complete with piragua cart on the street corner and an inclusive mix of bodega visitors. A smart feline-centric introduction to an underappreciated N.Y.C. landmark institution: the corner bodega and its cat."
— Publishers Weekly (Starred Review)
POW! Kids Books, 9781576879320, 32pp.
Publication Date: September 24, 2019
About the Author
Born and raised in New York, Louie Chin is an illustrator whose work includes commercial and editorial content, as well as individual commissions. He has created illustrations for a variety of publications and projects, including The New York Times, The Boston Globe, Nike, and the children's book, Don't Ask a Dinosaur (POW!, 2018). Working with both traditional and modern media, such as watercolor, gouache, and software, his biggest influences and inspirations come from comics, movies, and his daily observations of life in NYC. He has always been an animal lover, and there is one family pet in particular from which he drew inspiration for Bodega Cat: a spirited and feisty orange tabby cat named Simba. His favorite bodega order is coffee and an egg and sausage sandwich on a toasted roll. Bodega Cat is the first book that he both wrote and illustrated. He currently resides in Brooklyn, New York.