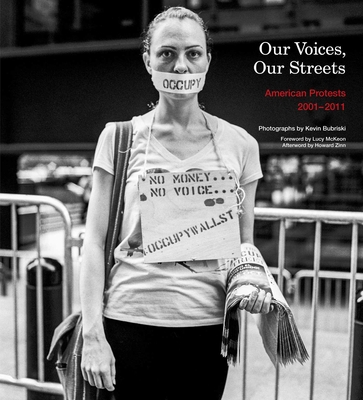 Our Voices, Our Streets
American Protests 2001-2011
Hardcover

* Individual store prices may vary.
Description
The American street has always been the ultimate public venue for political and cultural expression. This collection of images by Kevin Bubriski covers a decade of American street protest that began on January 20, 2001 with the inauguration of George W. Bush and ended with Occupy Wall Street in October of 2011.

The crowds in the street at the 2001 inauguration made it clear America was at a difficult and defining moment after a contentious election. Following the inauguration of 2001 and the tragedy of 9/11, the American streets- as they have been since the country's founding-became the setting for numerous memorials and vigils, parades and protests.

These photographs chronicle events in New York, Washington, D.C., and Vermont. The gatherings were large and sometimes small, and in both cases usually unnoticed by the mainstream media. These street portraits show a diversity of Americans: veterans, families of men and women on active duty, families of the victims of the 9/11 tragedy, parents of U.S. servicemen and women killed in the Iraq War, security personnel, police, Muslim Americans, anti-war activists, disenfranchised minorities, and anarchist youth. The common denominators that unite these images are the lens of the Hasselblad camera and the public stage of the American streets.
Praise For Our Voices, Our Streets: American Protests 2001-2011…
"In this powerful photography collection, Bubriski documents a decade of public protests. The bulk of photographs, focusing on individuals in crowds, were taken during the George W. Bush presidency, and showcase, among other events, antiwar protests around the country: at a 2002 peace march in Bennington, Vt., a young man whose face is painted with an American flag holds up a "Patriot for Peace" sign; at the fifth anniversary of the start of the Iraq War, Iraq Veterans Against the War march in front of the Capitol. Bubriski includes sobering images of grieving parents of soldiers killed in action (one mother standing on a New York City street holds a sign with an image of her son, captioned "Killed in Baghdad April 26, 2004"), as well as of 9/11 anniversary commemorations, with such images as a hearse with a photo of Osama bin Laden adhered to an open casket. Bubriski balances this volume with such images as a man at the same 9/11 memorial with a construction hat that reads "Drop the Bomb"; two men carrying copies of a Sean Hannity book at President Bush's 2005 inauguration; and of four people in D.C. waving flags with a sign that reads "If You Want Peace Prepare for War." Bubriski's photos movingly capture unrest in recent American history."
— Publishers Weekly

"Bubriski's objective eye and poignant sensibility reveal pivotal, defining moments of our pre-COVID-19 times through portraits which are at once robust and delicate."
— artscope magazine

"This photobook is an excellent compendium for studying the range and nature of citizens making peaceful use of their First Amendment rights to voice their opinions publicly, on our streets. Feelings such as anger about deprivation, discrimination, and other setbacks become visible, the opinions are heard, and persuasion can take place."
— Gerhard Clausing
powerHouse Books, 9781576879474, 164pp.
Publication Date: April 28, 2020
About the Author
Kevin Bubriski's fine art photography is in the permanent collections of the Museum of Modern Art, Metropolitan Museum of Art, San Francisco Museum of Modern Art, and Bibliothe`que Nationale, Paris, and he is the recipient of Guggenheim and NEA fellowships. Bubriski's books include Portrait of Nepal (Chronicle Books, 1993), Pilgrimage: Looking at Ground Zero (powerHouse, 2002), Look into My Eyes: Nuevomexicanos por vida 1981-83 (Museum of New Mexico Press, 2016), and Legacy in Stone: Syria Before War (powerHouse Books, 2018). His retrospective monograph Nepal 1975- 2011 was published by Radius Books and the Peabody Museum Press of Harvard University in 2014. From 2016–2017 Bubriski was a Senior Scholar Fulbright Fellow in Nepal, where he pursued his photography in Nepal's remotest regions. Bubriski lives with his wife in Vermont.
or
Not Currently Available for Direct Purchase