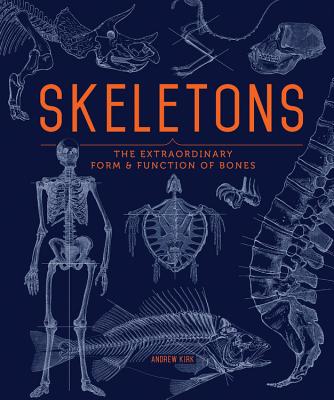 Skeletons (Hardcover)
The Extraordinary Form & Function of Bones
Wellfleet Press, 9781577151234, 256pp.
Publication Date: August 1, 2016
* Individual store prices may vary.
Description
Everything you need to know about the framework of the body - our bones!
Bone is one of the most extraordinary materials in the natural world; flexible, strong, and available in a number of types and densities. Yet we can only absorb quite how amazing it is when we look at the range of different jobs it can do, from supporting a huge and heavy mammal like an elephant, to enabling a bat to fly. It can even teach us about the past! Scientists have gathered all the information they know about the dinosaurs and their dependents from their fossilized bones, extraordinary reminders of the way our world used to be.
Skeletons covers everything you need to know about bones! Beautifully illustrated with the engravings of the nineteenth and early twentieth centuries, learn all about the skeleton and the variety of actions it preforms to enable an animal to survive. Then, go deeper and see how skeletons have evolved over time. They can even adapt to different climates to help animals survive! You'll also find complete directory of skeletons with its own box of key facts and statistics. It's scientific eye candy!
About the Author
Andrew Kirk was educated at Oxford University and worked in publishing for over twent years before becoming a writer. His previous titles have included books on ancient history and a study of Thoreau. This is his sixth book.