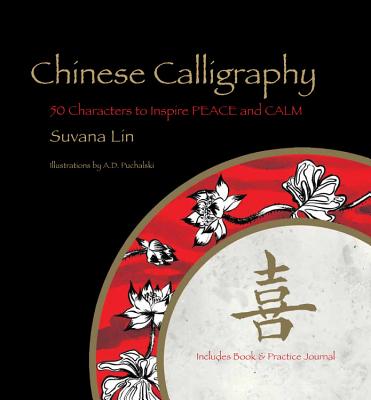 Chinese Calligraphy (Hardcover)
50 Characters to Inspire Peace and Calm - Includes Book & Practice Journal
Wellfleet Press, 9781577151302, 144pp.
Publication Date: October 4, 2016
* Individual store prices may vary.
Description
For centuries, scholars have viewed Chinese calligraphy as a regimen, a practice of calming the mind and nurturing the heart. It is viewed not only as a way to release stress and build patience but also as a path to self-development. It takes time and care to slowly grind the solid inkstone into liquid ink. It encourages good hand-eye coordination to execute the brushstroke.
Chinese calligraphy has increased much in popularity nowadays, particularly among the younger generation. It has gained importance as a visual art form that is heavily influenced by culture and heritage. It is an art that most people can enjoy with minimal requirements - ink, brush, and paper.
The fifty characters that were chosen all evoke a sense of peacefulness. The book is separated into three sections, with each section emphasizing elements that may affect our state of mind: Nature, Emotion, and Enlightenment. Nature is all around us, greatly impacting our lives. A. D. Puchalski's lovely illustrations help to complement and illuminate the fact that we can find nature in all things. The characters selected for the Emotion section highlight those emotions that, when cultivated, will benefit our overall mental well-being. The characters in the Enlightenment section emphasize the relationship with oneself, and help us recognize how fortunate we are that we can acquire new skills and develop our infinite potential for personal growth.
Chinese Calligraphy is bound in a handy slip case to keep the book and journal bound together. The binding of the book allows it to lay flat for easy reference while you craft your characters. By focusing on each individual brushstroke as you practice writing these calming characters, you will learn to appreciate the joy of Chinese calligraphy. It will also help clear and quiet your mind to the noise of your daily life.
About the Author
Suvana Lin speaks fluent Mandarin and Cantonese. Born in Hong Kong, Suvana began writing Chinese at the age of six, and studying and practicing Chinese calligraphy by the time she was twelve. She moved to the United States as a teenager, and currently resides in Massachusetts with her daughter.
S. M. Wu is a freelance editor and publishing consultant. She has edited books in a wide range of themes and categories, including: genre fiction, folklore, light reference, humor, and illustrated fantasy. She currently lives in New York City.
New York native A.D. Puchalski is an illustrator and designer working in pen and ink, watercolor and pixels. She is a contributing artist for The Rumpus, co-publisher of the cult film magazine Shock Cinema and has created several comic books. As well as traditional art, she makes designer toys which have been featured in an array of publications and galleries. Her work often reflects her varied influences of pop culture, folklore and classic art. For more information on A. D. Puchalski's work, please visit www.angeldevilland.com.
or
Not Currently Available for Direct Purchase