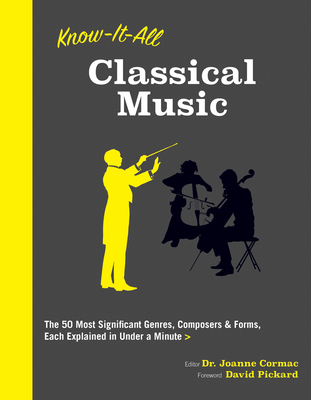 Know It All Classical Music (Paperback)
The 50 Most Significant Genres, Composers & Forms, Each Explained in Under a Minute
Wellfleet Press, 9781577151500, 160pp.
Publication Date: June 1, 2017
* Individual store prices may vary.
Description
From the classical music of the Middle Ages to today, Know It All: Classical Music is your guide to understanding the foundation of this incredible movement in music.

Do you know a capella from zarzuela, or your major from your minor? Can you distinguish between a serenade and a symphony? If you have only one minute, there is time - using Know It All: Classical Music - to understand the creative journey taken by classical music from the Middle Ages to the modern era.

Our early ancestors understood pitch and rhythm and the basic tools that have been worked and ordered by composers and performers over the past 400 years into an extraordinary body of music written for soloists, chamber musicians, and entire orchestras.

From plainsong to program music, appreciate the magnitude and majesty, the passion and the pathos of sounds that have the power to stir our emotions to great joy, or infinite sadness. Here's music to your ears.
About the Author
Dr. Joanne Cormac spent two years as Lecturer in Music at Oxford Brookes University before being awarded, in 2015, a three-year Leverhulme Early Career Fellowship with the University of Nottingham for her project "Composer Biography:Narrative, Identity and Reception," which will explore the biographical treatment of a range of composers across written, visual, and spoken media. Joanne completed her PhD at the University of Birmingham, on the topic "Liszt as Kapellmeister: The Development of the Symphonic Poems on the Weimar Stage." Joanne's research interests include Liszt, composer biography, and the role of music in 19th-century theater in England and Germany. Her publications are available in 19th-century Music and 19th-century Music Review.
David Pickard studied Music at Corpus Christi College, Cambridge, before starting his career at the Royal Opera House. After serving as Chief Executive of the Orchestra of the Age of Enlightenment and General Director of Glyndebourne, he took up the role of Director of the BBC Proms in November 2015.