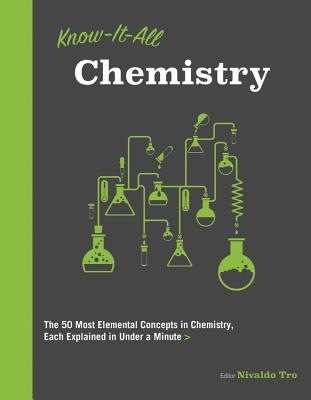 Know It All Chemistry (Paperback)
The 50 Most Elemental Concepts in Chemistry, Each Explained in Under a Minute
Wellfleet Press, 9781577151517, 160pp.
Publication Date: June 1, 2017
* Individual store prices may vary.
Description
Chemistry can be a daunting subject for someone on the outside, that's exactly why Know It All Chemistry is here to show you the basics!

As the central science that bridges biology and physics, chemistry explains the diversity of all things tangible at a molecular level. If you come to understand the inner workings of chemistry, you can understand everything, because chemistry is the science of matter -- its composition, structure, properties, and how it changes.

Know It All Chemistry is your key to jumping into this massive subject. As you read through this beautifully designed book, you'll learn why some things oxidize and others explode; why food is good to eat and coal is not. As you come to understand chemistry and know what reasonable expectations you can have of a product, and how to separate fact from fiction. Chemistry is the heart of cooking, it can keep you safe, and it explains why things work. This book brings the subject out of the lab and boils it down to its essential elements.
About the Author
Nivaldo Tro is a professor of chemistry at Westmont College in Santa Barbara,California. He has been honored as Westmont's outstanding teacher of the year three times and has also received the college's outstanding researcher of the year award. Professor Tro is best known for his chemistry textbooks, which are used at over 600 colleges and universities around the world and which have been translated into five different languages including Korean,Chinese, Italian, Greek, and French.