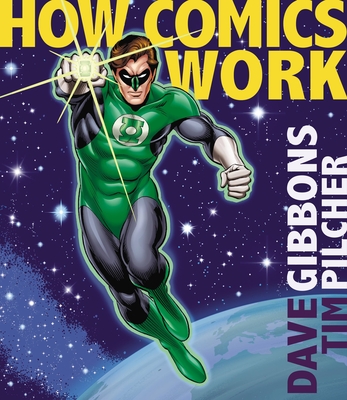 How Comics Work (Paperback)
Wellfleet, 9781577151579, 192pp.
Publication Date: October 2, 2017
* Individual store prices may vary.
Description
In Eisner Award–nominated How Comics Work, Dave Gibbons offers a class in creating comic books. Learn scriptwriting, page layouts, lettering, and more from the incredible artist behind Watchmen!

This "How It's Done" series reveals insider hints, tips, and tricks from one of the world's greatest comic creators, all in his own words. The artist behind juggernauts like Watchmen and The Green Lantern, Dave Gibbons is here to teach you scriptwriting, page layouts, lettering, cover designs, and more, with scans of original artwork and rarely seen workings to illustrate his personal creative processes. 

How Comics Work covers both Gibbons' hand-drawn and digital design techniques in depth. An early adopter of computer design in comic creation, all his lettering is digital, and he even has his own "hand-lettered" font. This is your chance to gain insight to Gibbons' digital work, from his computer coloring and 3-D modelling with Angus McKie on Give Me Liberty, to his work on The Originals using digital grey tones. You'll learn how he layers text for editing, creates effects such as flares and neon glows, and prepares artwork for print and online.
 
How Comics Work is everything you need to know to get started creating great comic books.
About the Author
Dave Gibbons, a Will Eisner Hall of Fame nominee, is one of the most famous comic creators working today, with over 40 years experience, having worked for every major publisher in the US and UK. He is most famous for his collaborations with Alan Moore, including Watchmen, and was last year named Britain's first comics laureate. Throughout this insightful course are real-life examples of Gibbons' art, revealing how he solved actual problems with practical solutions, and yielding unique behind-the-scenes insights into the creative process. All of the examples are scanned from original artwork, sketches, and preparatory designs, many of which have never been published before. Learn the stages of layout and page planning via the initial designs of Give Me Liberty; discover Gibbons' handy tips for lettering using never-before-seen examples from The Originals; and find out the secrets of successful writing with sample scripts from The World's Finest and The Secret Service.
Tim Pilcher is a pop culture expert and has worked in and around the comics industry for over twenty years as a writer and editor. He initially started as an assistant editor at DC Comics' Vertigo imprint. He was associate editor on the trade paper, Comics International. He has written comics for the BBC, DeAgostini, Weldon Owen, and the Young Telegraph, and has worked for numerous book publishers, including Penguin Children's Books and Dorling Kindersley. Pilcher has written over sixteen books on comics, including the bestselling Erotic Comics: A Graphic History, Comic Book Babylon, The Little Books of Vintage... series, The Complete Cartooning Course, and The Essential Guide to World Comics with Brad Brooks. He has also contributed to numerous other books including Comix: The Underground Revolution, 500 Comicbook Action Heroes, The Slings and Arrows Comic Guide (1st Edition), 500 Essential Graphic Novels and War Comics: A Graphic History. He has lectured on comics at Reading University, UCL, The ICA, Dublin Trinity College, The Imperial War Museum, and The British Library. He is the UK liaison for international graphic novel publisher, Humanoids. He occasionally updates his intermittent blog, Sex, Drugs and Comic Books
 
Praise For How Comics Work…
Essential reading.
- Garth Ennis, co-creator of Preacher, The Boys, Crossed, Hitman and writer of Hellblazer and The Punisher, Garth Ennis
There's a million books on how comics are put together, but none from the master storyteller behind the greatest graphic novel of all time. This is Orson Welles giving you a movie tutorial. If you're serious about this business this should be sitting on your desk.
- Mark Miller, writer/co-creator of Kingsman: The Secret Service, Kick-Ass, Wanted, Civil War
How Comics Work is the next best thing to an actual apprenticeship with Dave Gibbons.
- ICv2, ICv2
A hell of a read.
- Comic Bastards, Comic Bastards
Dave Gibbons teaches you scriptwriting, page layouts, lettering, cover designs – everything you need to create your own comic. You're learning from the best here.
- Gary Evans, CreativeBloq