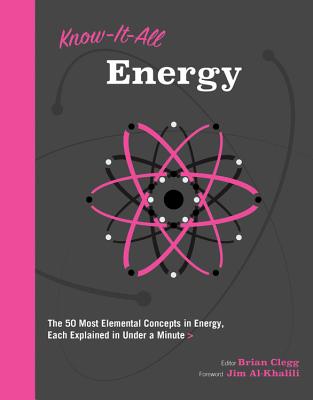 Know It All Energy (Paperback)
The 50 Most Elemental Concepts in Energy, Each Explained in Under a Minute
Wellfleet Press, 9781577151616, 160pp.
Publication Date: September 1, 2017
* Individual store prices may vary.
Description
From the first cavemen to light a fire to the elusive dark energy in outer space Know It All Energy explores energy in all its forms.

The Know-It-All series takes a revolutionary approach to learning about the subjects you really feel you should understand but have never gotten around to studying. Each title selects a popular topic and dissects it into the 50 most significant ideas at its heart. Each idea, no matter how complex, is explained in 300 words and one picture, all digestible in under a minute. 

As a phenomenon that resides everywhere and in everything, energy is best understood by example. Exploring energy shows how it cannot be created or destroyed, only transformed—and how plankton and other ancient ocean-dwelling organisms can be used to power your car. Reducing the subject to its essential areas, Know-It-All Energy charts fascinating and fundamental topics, from the nuclear fusion reactor at the heart of the sun and civilization's discovery of our first hands-on energy source in fire almost 400,000 years ago, to the elusive dark energy which makes up most of the content of the universe.
About the Author
Brian Clegg read Natural Sciences, focusing on experimental physics, at Cambridge University. He has written for numerous publications including Nature, the Times, the Wall Street Journal, and has lectured at Oxford and Cambridge universities and the Royal Institution. He is editor of the book review site www.popularscience.co.uk, and his publications include A Brief History of Infinity and How to Build a Time Machine.
Professor Jim Al-Khalili OBE is a physicist, author, and broadcaster based at the University of Surrey. He received his PhD in theoretical nuclear physics in 1989, and has published over a hundred research papers on quantum physics. His many popular science books have been translated into twenty-six languages. He is a recipient of the Royal Society Michael Faraday medal and the Institute of Physics Kelvin Medal. Jim is a regular contributor to radio and television science programs. In 2016, he received the inaugural Stephen Hawking medal for science communication.