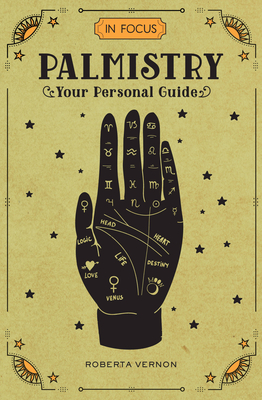 In Focus Palmistry (Hardcover)
Your Personal Guide
Wellfleet Press, 9781577151722, 160pp.
Publication Date: July 31, 2018
* Individual store prices may vary.
Description
From the life line to the heart line, In Focus Palmistry gives a comprehensive review of what our hands are telling us, complete with  an 18 x 24-inch wall chart for quick reference.
In Focus Palmistry 
brings you up to date on the
ancient craft of reading hands
to tell a person's fortune. From analyzing palms, fingers, fingerprints, mounts, and nails, find the hidden strengths and weaknesses within yourself and others.
Can your hands unveil your future? Author Roberta Vernon explores this question in the introduction. Each chapter address a different aspect of palmistry, including: looking at hands; the fate line; the Apollo line or sun line; marks, colors, and warts; and skin ridge patterns.
An 18 x 24-inch wall chart for quick reference contains key information
for deciphering palms are
included
with the book to provide a quick interpretation reference. With practice, and with
In Focus Palmistry
in hand, readers will be able to decipher the following areas:
Love and relationships
Sexuality
Money
Business
Career
Aptitudes and talents
Successes and failures
Parents and in-laws
Children
Other people of influence
Home and property matters
Health
Travel
Pets
The In Focus series applies a modern approach to teaching the classic body, mind, and spirit subjects, using expert authors in their respective fields and featuring relevant visual material to smartly and purposely illustrate key topics within each subject. As a bonus, each book is packaged with index cards and/or a poster, to give readers a quick, go-to reference guide containing the most important information on the subject, for easy practice and retention.    
About the Author
In an attempt to understand others and to learn how to future-proof herself against life's vicissitudes, Roberta Vernon began studying palmistry and various forms of fortune telling, while also developing her own psychic gifts. She took an interest in chakra healing while working as a palmist. Like many who have experienced deep unhappiness, she was always more interested in healing her clients' emotional misery than their health issues. However, after spending over four decades working with people in the mind, body, and spirit field, she understands energy healing of all kinds, including how to mend battered and misaligned chakras, which can help to heal common ailments.