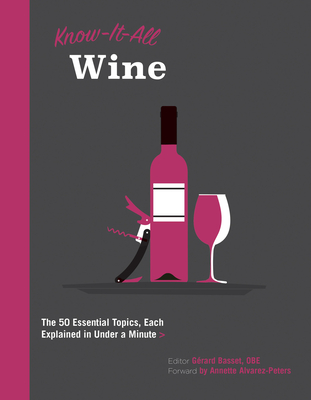 Know It All Wine
The 50 Essential Topics, Each Explained in Under a Minute
Paperback

* Individual store prices may vary.
Description
Surrounded by mystique, the world of wine can be intimidating for the novice. What's the difference between bouquet and nose? Is Rioja a wine or a region? Are you prepared to answer any of those questions at a dinner party?

Know-It-All Wine demystifies the subject, decanting the knowledge you need in palatable sips. Compiled by wine experts, it's organized in a sequence of well-thought-out chapters, taking you from terroir to the technicalities of winemaking, introducing you to the important grapes and iconic regions, offering an overview of the business of wine and how it works, and concluding with a section on the enjoyment of wine.

Every entry has been edited into a neat and effective 300 words and an image, it will leave you plenty of time to put your new-found expertise into practice.


The Know It All series takes a revolutionary approach to learning about the subjects you really feel you should understand but have never gotten around to studying. Each book selects a popular topic and dissects it into the 50 most significant ideas at its heart. Each idea, no matter how complex, is explained in 300 words and one picture, all digestible in under a minute.
Wellfleet, 9781577151760, 160pp.
Publication Date: April 3, 2018
About the Author
Gérard Basset OBE, editor, is currently the only person in the world to hold the combined titles of Master of Wine, Master Sommelier, Wine MBA, and the World's Best Sommelier. Trained in Lyon, he became head sommelier at a Michelin-starred hotel in England and went on to co-found the Hôtel du Vin chain. Basset was honored with the OBE in 2011 for services to the hospitality industry and named Man of the Year by Decanter magazine in 2013.